Important: This article is purely satirical and you should not value any of the opinions or 'facts' presented below.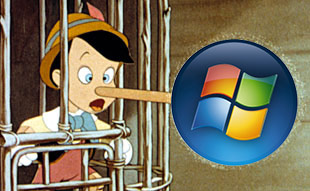 Because I write a blog, my opinions need no justification. You should even base your life and your purchasing decisions around my extremely valuable, NASA-like accurate and self-justified rantings. If you were to ask me what I thought about Windows Vista, because your own opinions are worth less than hotdogs on a stick, I'm here to tell you Windows Vista blows. Just like what this guy, Robert Rittmuller, is telling everyone else. Let's have a look at what Robert says in greater detail.
"(Vista has) no new features" – None at all. For the last 5 years, everyone at Microsoft went on a cooking course. Thus had to drop features to make time for icing on the cake.
"(Vista has) no speed boost" – A dedicated performance team inside the Windows development division focused solely on how to improve Solitaire's frame rate.
"Microsoft provided these programs in the 'Ultimate' version of Vista as a weak attempt to compete with Apple's iLife software suite." – The biggest Windows Vista secret yet to be revealed is a home productivity suite. Because Robert has obviously used it.
"My own informal tests on my Macbook Pro…" – Because formal benchmarks on Windows Vista are illegal, remember?
"…excessive use of transparency" – Transparency you can even see!
"Unnecessary eye candy is everywhere" – There are literally Aero bars popping out from left, right and center.
"Since Microsoft decided not to build Windows Vista on the longhorn kernel" – R.I.P. Vista's code-name kernel.
"You can do everything promised by Windows Vista in Windows XP today" – Solitaire, check! Minesweeper, check! Notepad, check!
And of course Robert is spot on with his criticism of Windows Vista, so perceivably his next article on "Why Corporations Are Going To Hate Windows Vista" is also totally right. With straight facts like "Windows Vista lacks a 'Start" menu'", Robert has found a one-way ticket to successful journalism. I wish him the best of luck.