Millions of computers starts each day with an image to remind users of which operating system they're using. Here's a look back at 22 years worth of the most agonizing waits in history.
| | |
| --- | --- |
| Windows 1.01: Since the blue-screen-of-death has yet to be invented introduced, this color combination was fairly acceptable. Credits: PCForum.hu | Windows 3.1: The first and last vertical bootscreen. The designer must have just found the color palette, bevel and drop shadow commands in Photoshop. Credits: PCForum.hu |
| Windows 95: Clouds and infinite-scroll animation introduced. Copyright missing-in-action. Credits: WinSuperSite | Windows NT 4.0: Dark and scary. Borders make a return. First bootscreen to feature the Microsoft logo. Credits: Dabestsite |
| Windows 98: Better looking clouds for a better operating system. Copyright still missing-in-action. Credits: Windows Nation | Windows 2000: Clouds removed. Copyright return. SKUs introduced. Barely-accurate progress bar invented. Credits: The Best Website Ever |
| Windows ME: Just as colorful as the operating system experience. Progress bar abolished. Credits: Windows Nation | Windows XP: First white-on-black bootscreen. SKU branding (re)introduced, infinite-scroll color varied by SKU. Credits: The Elder Geek |
| Windows XP SP2: All operating systems are created equal – Microsoft no longer discriminates SKUs. Copyright years removed. Credits: Win History | Windows Server 2003: No points for knowing where this was inspired was. Credits: Toasty Technology |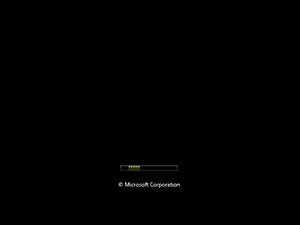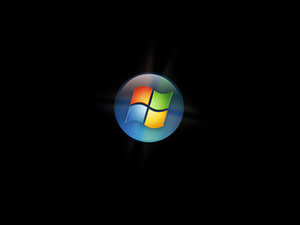 Windows Vista just has to be different. The first thing you'll notice is there are two bootscreens, separating the low-level code and branding experience. The first bootscreen is an ultra-minimalistic scrolling animation featuring thin green lines which is only accompanied by a short copyright text. The second bootscreen features a full-resolution 32-bit animated glowing Windows pearl, synchronized together with the official startup sound. Credits: Ed Bott
It's interesting to see how progressively smaller the Microsoft text gets.