Forget what I said last time, Clearification has returned to the state of 'not making much sense'. Today, the third episode in the six episodes series with Demetri Martin was released, titled "Electric Brain". The story revolves around a scientific experiment with a brain-analyzing device. Check it out for yourself.
It's a little bit funny. Not much storyline. Weird, to say the least. A few guest appearances of Windows Vista showcasing Office 2007, Flip 3D, Windows Media Player and Internet Explorer.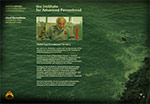 In other news, the official website for The Institute for Advanced Personhood has also opened. Feels a little bit like Lost's alternative reality game, the Hanso Foundation.
There's a lot of history behind the institute, it's staff and its beliefs. There's also a nice little mini-game that explores your psychological traits. According to the test, I'm "one of a kind".