On the official Windows Vista website, there has been an awfully large collection of pre-Beta 2 dated screenshots illustrating poorly, the final look and feel of Windows Vista. Looking through the features page, it feels like I'm warping in-and-out of time. Nearly every page offers a taste of Vista in a different era, far-fetched from a gallery of consistent user interfaces.

Just to show I'm not kidding around, this particular screenshot for Sharing pre-dates even Longhorn Beta 1, from July 2005. On the left, the screenshot on the website shows the old back button, cyan titles and 'jellybean' buttons. It looks pretty horrible. On the right, is the final interface for the same feature.

Another example is on the Windows Photo Gallery page. This screenshot was even taken at a time where menu toolbars were still turned on by default. The main toolbar is still largely unorganized and lacks the black gradient. Control buttons at the bottom were still looking a little clunky and the Aero Glass border is yet to infiltrate that area. Windows Photo Gallery today is far more polished in comparison.

What a mess Windows Calendar was. Thank god the bottom control buttons were completely scrapped. Surprisingly, the menu toolbar made it through.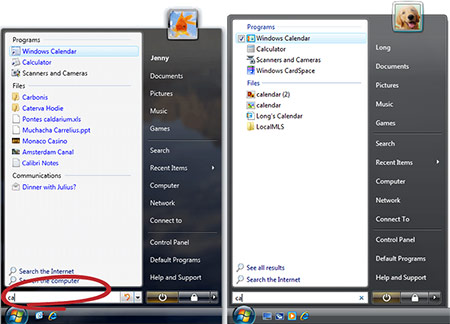 Although not all of the older screenshots are worse. For example, in User Experience, I very much prefer the older Start menu. Besides the purple text in search results, two minor differences include the boldness of username, as well as a darker user picture 'holder'. The bold username served a very useful purpose for separating the actual user from their folders.
I could go on with more examples, but I'll leave it at that. This problem is barely limited to only the Vista website. All over Microsoft.com, and even in the all-too-important Vista Virtual Pressroom, there are more than handfuls of outdated and quite frankly, ugly screenshots of an otherwise aesthetically pleasing user interface.
During the course of development, Vista's UI changed (too) many times and even more Microsoft.com websites fail to keep up. But now with Vista well beyond its production cycle, Microsoft should start focusing on updating these screenshots to send a refreshed and consistent message about the new user experience.
Perhaps a new Vista website is being developed for the business and/or consumer launch? Possibly rolling out at the same time as the new Microsoft.com website? I sure hope so, the current one's becoming quite dated.