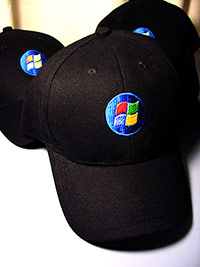 Desperate times calls for desperate measures. When no one else would supply freebies to give away, I sought to the help of two great Aussie Microsofties (Deeps De Silva and Bernard Oh) for some highly-undervalued Windows Vista merchandise.
There are three caps with a Vista orb logo on the forehead. Hand wash only, one size fits all, 100% cotton, made in China. The decal is a Vista orb sticker that you can basically stick on to any surface except water. I've heard Apple decal stickers work magic, and work even on water, but that's what you get with the premium you pay. Nothing particularly fancy, but might satisfy the die-hard Vista fans.
Each winner will receive a cap, a decal, mailing bag, sticky tape and an assortment of postage stamps.
Enter to win 1 of 3 Windows Vista Caps & Decals
Giveaway closes Friday 24th of November, 2006. Winners chosen randomly.