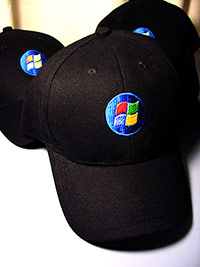 They say good things come in three's, but I say great things come in hundred's. I originally announced I was only giving away three measly caps and decals, but after the record-breaking response with over 1200 entries (90% of which are Chinese), Microsoft's Deeps De Silva stepped in to boost the prize-pool to something more appropriate.
However, there are still only 3 decals in the prize-pool, so they will be randomly distributed to 3 lucky winners.
Winners will be notified by email in the next 24 hours has been notified. Please check your spam box as winning a prize is often marked as spam. Winners who do not respond to the email within a timely fashion will have their prizes reallocated to other entrants.
Look forward to more cool giveaways in the near future! 🙂
P.S. If you have a business and would like advertise your product to help me over the cost of postage, please send me an email through my about page. I'm open to ideas such as including promotional ads in the mailbag.