The covers are off on the new Microsoft Expression design suite. Everything we've known so far regarding Expression Blend as well as the new sub-domain names has been right, even Robert McLaws was nearly dead-on with his speculation on Expression Media. But even so, several new and exciting mini-announcements emerged.
Expression suite rebranding

First and foremost, the new packaging. It looks like Windows Vista and Office 2007 weren't going to be the only products spoiled with the well-received pop-out curved box design. The box-art hasn't been changed much from the previous box designs, keeping both the yellow-label and artistically-patterned backgrounds. The names has obviously changed, and Windows XP sticker removed.

Interesting to note, Expression Blend is the only product name that has been trademarked. Why the other products haven't been trademarked (yet)? Go figure.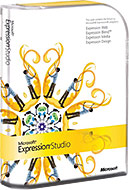 The other obvious change is the inclusion of a new product suite, called Expression Studio.

Expression Studio is a superset of all four Expression products in a bundle that one would expect to sell for cheaper.
Richard Clark also found an Amazon entry for Expression Web indicating it will retail for $269.10. That's nearly $130 cheaper than Adobe's counterpart, Dreamweaver 8, which retails for $399. Still expensive, but will definitely appeal to new web designers starting out.
"WPF/E", cross-platform & media support
Windows Presentation Foundation/Everywhere, the mouthful, has been a quiet devil since its original announcement at PDC in 2005. However since today, developers will be able to develop and deploy on this new platform. Jargon lovers will be saddened to know that the codename, "WPF/E", will be replaced with a more friendlier name in the future.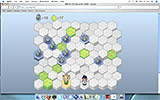 Microsoft is also delivering its promise for full feature parity across major platforms and browsers; including Windows, Macs, Safari, Firefox and obviously Internet Explorer. The size of downloads for these client plugins are on-par compared to the obvious competitor, Flash. The "WPF/E" (CTP) client comes under 1MB for Windows, and 3MB for Macs (PowerPC & Intel binaries in one package).

"WPF/E" will also support Windows Media Audio and Video streaming for cross-platform distribution. Finally, Mac users will be able to view the previously proprietary WMV9 formatted content in OS X one way or another. The included VC-1 codec will possibly stir up the competition with Flash Video being the same high-quality codec used in HD-DVDs and Blu-Rays. But don't expect streaming 1080p videos of your favorite TV shows from YouTube anytime soon. It'll clog the tubes!
Sean Alexander
For more information on this and more, please visit the Expression site, WPF/E site and Sean Alexander's weblog, who is now the director for the Rich Media Platform. Sean is most noted for his work on Media Center, portable media devices and the Windows Sidebar.
I asked (the infamous Microsoft watching) Mary Jo Foley for her thoughts on the Expression suite. She said, "Microsoft needs to make sure not to alienate its core developer audience, while it goes after the designer market (which is new for Microsoft). I'm already seeing some bloggers question Microsoft's partitioning of the market."
It's going to be interesting to see how fast, if at all, Expression will be adopted in the currently monopolized market by Adobe (and formerly Macromedia).