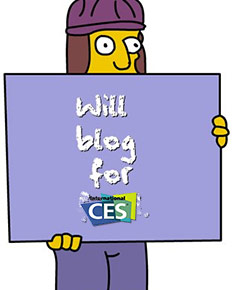 Are you rich? Do you have a company with too much liquid finances? Do you find it hard to sleep at night because you sleep on pools of money? Then you need the Long Zheng 4000!
The LZ 4000 is much improved over the predecessor, LZ 3000, with new blogging capabilities and power. The LZ 4000 uses a cyclonic blogging system that sucks up all of your cash in one cycle. The LZ 4000 is wonderfully versatile weighing just under 60kg. It runs on standard AA batteries* guaranteeing at least 12 hours of continuous play.
It comes with head, body, arms, legs and a full set of operating instructions. You can get started in just a few clicks!
Don't miss out on this once-in-a-lifetime-opportunity. Order yours today by email for just $1199 and you'll receive a second LZ 4000 absolutely free! That's right, a second LZ 4000 to give to your co-workers so they too, can experience the magic of the LZ 4000! *Batteries not included.
Oh, by the way. If you would also like to sponsor me to CES 2007, please email me as well!
Update: Found a sponsor. 😉