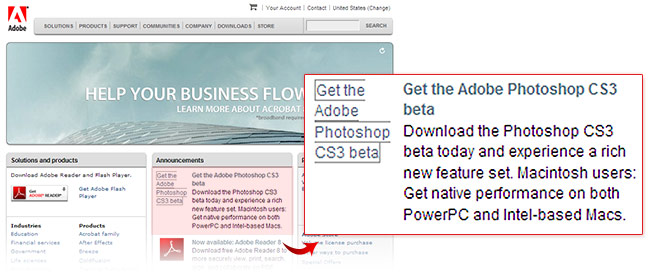 Adobe has been updating its website due to the launching of Adobe Acrobat Reader 8, but unexpectedly, I also noticed a link to the Photoshop CS3 beta also featured. As the byline states, it is supposed to be released "today", but neither does the image or link pointing to Adobe Labs work.
Either this was leaked early, or the site is not ready yet. Even if it doesn't come out today, it is definitely coming soon.
Adobe Creative Suite 3 has been a long-awaited for release for Mac users since it will finally support Intel-based Macs natively. It will also bring the much anticipated non-destructive layer filtering feature. Think Secret estimated CS3 could ship as early as end of this year or next year, but a beta now in December confirms it won't be shipping this year.
This is will be the first time Adobe is releasing a public beta for its flagship design application, Photoshop. Recently, Adobe has tried to become more transparent with its internal developments with the introduction of Adobe blogs and Adobe Labs – a community environment for pre-release testing of software and technologies.
Update: Adobe has since removed the link on the frontpage. Not a good sign 🙁
Update 2: I have contacted Adobe to comment on this.
Update 3: Adobe has declined to comment. "What we can say is that web hiccups happen from time to time."
Update 4: AppleInsider says the beta will be released this Friday, the 15th of December. They also have some nice information on CS3 like an "Advanced" SKU. However I don't like how they stated "the CS3 beta was reported exclusively by AppleInsider" about 4 days after this post.