Windows Vista is suppose to be a fresh new start for Microsoft's partners. The level of quality demanded from Vista-related marketing has been upped compared to previous Windows releases, with most partners complying to a higher standard of websites to showcase Vista. But one company decides to take Vista back to the stone age.
This is what you get when you type "Windows Vista" into the search box on Newegg.com.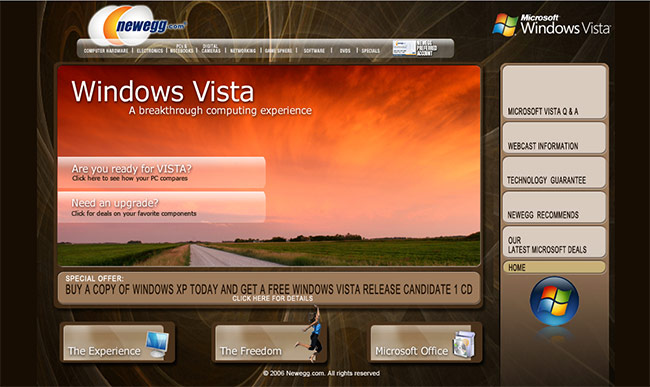 I wouldn't be surprised if this mini-site was proposed, drafted, designed, published and signed-off solely by a intern. The whole website has been sliced and diced in Adobe ImageReady with CSS standards and accessibility thrown out the window.
Newegg also suggests to customers to disregard Microsoft's system requirements for Newegg's own specifications to sell more high-end hardware. "So go ahead and glance over what Microsoft suggests and then jump over to the hardware requirements that Newegg recommends." Ridiculous system specifications include a 64-bit CPU, DirectX 10 graphics card and a 250GB hard drive. Sneaky.
Microsoft should keep a closer eye on what Frankenstein marketing mash-up some of their partners have created such as this. This site creates a pretty poor impression to customers about Windows Vista, and I wouldn't doubt there are more like this.