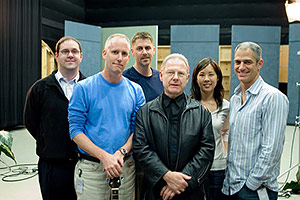 Windows Vista sounds recording session with Robert Fripp.
Ten Microsofties + 10 sound designers.
Today, Fast Company released an article from their February issue about how Microsoft created the new Windows Vista startup sound. Appropriately titled "twenty people, four notes", the article explains how it took 18 months, 20 people and over 500 variations to pick just a four-note melody that will be played over and over again for years to come. Personal note: I quite like it.
The article explains, "according to studies by branding guru Martin Lindstrom and market research firm Millward Brown, sound has a 41% chance of influencing how people perceive brands." which is all well and good considering how beaten up the Windows brand can be. But if it takes that much time and resources to create something so fundamentally simple, then how does a less-resourceful open-source development like Ubuntu deal with it?

Projects like Firefox and Ubuntu can deliver quality software for fractions of the development time, cost and resources compared with what companies like Microsoft spend. Thousands of people work on Windows, but it takes only somewhat 250 Ubuntu freelance contributors to come up with a solution I would consider as an alternative (if it is a sin in your religion to use Windows).
So I went on a hunt to find out exactly how many people work on the Ubuntu startup sound, and to my surprise, there was only one. User Pete Savage is the sole contributor and composer to the "UbuntuSounds" project which is currently deciding on the new sound scheme for the next release of Ubuntu.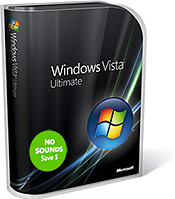 So far, it took just under a month for Pete to come up with 11 different samples which other users are providing feedback on what they like and don't like about each sample. Most of them are unique and pretty good, however a bit long for my likings.
If a team of one can compete with a team of 20, then I'm beginning to wonder if the cost of development is worth all that? I appreciate how much effort they're putting into attention to detail, but I'm sure Oscar-winning sound designers don't come cheap. I know I'd very much prefer a cheaper (or lesser-bugged) operating system than a startup sound even by multi-award winning composers.
I wonder how much a copy of Windows Vista would cost without sounds? Maybe it's time for a pay-as-you-go operating system!
Update: Steve Ball, one of the people behind the sound, gives some more internal insight behind the decision process.
Update 2: Steve Ball has posted an excellent response (or email actually) to the topics I brought up on this post. Well worth reading for the inside thoughts and processes behind the new Vista sounds.