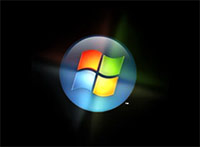 In January, following a story by Fast Company about the creation of twenty people and eight notes, I began to curiously question the value and effort put into creating the Windows Vista startup sound we all know by now. I compared the development process between Microsoft and Ubuntu to find out what makes each different and how each deals with the constraints in their respective projects, and I was surprised to find Ubuntu only had one sound designer, but virtually millions of ears. But a lot of what I thought about Microsoft was wrong.
In the days following, I was fortunate enough to have received a blog-reply and an email from Steve Ball, one of the people behind the Vista sounds, explaining in more detail about the process and decisions that ultimately decided the Vista start-up melody. There is so much content in his email, but one paragraph summed it all up.
From this view, focusing on the 'cost' of this project might imply that a Windows brand sound is an optional, unnecessary luxury, or a useless 'throwaway' design element – a tradeoff for some other higher value opportunity. However, in our now media-centric world, I view this sound as 100% necessary and 'un-tradable' for some other feature. Ignoring sound (or considering it 'optional') in product design is foolish and, IMHO, out of tune with the primary brand and media-driven changes going on in technology and user interface design today.

Today, Channel9 released a second video featuring Robert Fripp's second trip to Redmond, closer to the end of the Vista development, and features more soundscapes, interviews and discussions with the people who contributed to the Vista sounds project. It's a pretty long video at 1 hour and 3 minutes, but there is at least the contents of 4 videos in this single video. Well worth checking out!
Oh, and Jenny Lam and Tjeerd Hoek makes an appearance from 36:22min for those of you Vista UX stalkers enthusiasts playing at home. 🙂
Near the end of video, there is a good part with Robert Fripp talking about Windows Vista vs OS X as questioned by Steve Ball. As a Mac user himself, he has a fantastic response. Since this is a long video, some of you might miss it, so here it is on YouTube for everyone to see.