Bernard Oh spotted this Microsoft marketing campaign earlier this week for Office 2007. Don't worry, I can't get my head around this one too.
Recently, Microsoft Australia tried an unique marketing campaign aimed at Australian University students to help boost the sale of Microsoft Office and combat piracy amongst teens. It's not cheating. The angle? Sell Office Ultimate 2007 cheap. Very cheap. Insanely cheap.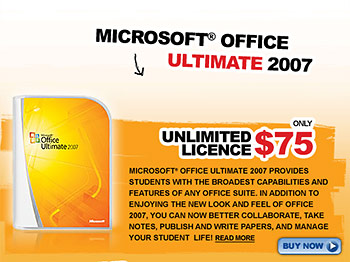 At only $75 Australian dollars (US$59) for an untimed license and $25 for a yearly license, Microsoft has truly lost it. In fact, I'd call them crazy. Why? Not because Microsoft is selling Office for under $100, or Microsoft selling a software on a subscription-model, but because the recommended retail price for Office Ultimate 2007 in Australia is $1,175.00. You don't even need Excel to know that's a discount of over $1,100 (94%).
Microsoft probably did this out of desperation because of such the large-scale and growing force of piracy within institutions like universities where high software prices forces students to seek alternatives. In fact only a few days ago, a lecturer at my university hinted at the idea of 'acquiring software from friends' which is a totally legitimate argument since universities alone cannot support technology for all of its students. Is this solution, to sell directly to students the most expensive version of Office ever released at a cost so low that it literally cries for attention, going to work?
I think this is a bomb waiting to explode. Why?
This promotes piracy, even worse, profiting from piracy. – Even if you sell the copy you buy at half the recommended retail price, which equates to $587.50, you can still make a profit of $512.50 (580% markup). It's like robbing a convenience store only with an university email account and without any repercussions.
A spit in the face for everyone who bought copies of Office Home and Student 2007 previously – Imagine you bought yourself a copy of Home and Student legitimately on February 25 because you thought you were Mr. Nice Guy. Well, tough, luck since you just wasted $174 and you don't even get Outlook.
A stab in the back to Microsoft retail partners – How are they suppose to compete with a $75 Office if Microsoft don't even wholesale Home and Student at that price? They spend thousands of advertising dollars on promoting Home and Students to, you guessed it, students, only to be shot down by Microsoft themselves.
This doesn't reflect well on the true value of (Office) software – If you hold Microsoft by the neck, will it spit out Windows Vista Ultimate for $5 too? If Microsoft can bare the guilt to sell Office Ultimate for $75, then how much is Office really worth? Maybe when an executive approved this, he/she knew they weren't losing $1100 per copy.
Thinking of buying a copy and retiring? Hurry. Offer ends May 28. You will need an eligible university email address and some pocket change. Use Street Team code "MSP9" if you want someone (not me) to win brownie points.
Update: I wonder if this blog post qualifies for the "Golden Blog Awards". It says winners will be judged on creativity, but I wonder if they accept opinions. I want that mobile phone. 😀