Step 1. Write a rant about how Microsoft might be shooting itself in the foot.
Step 2. ???
Step 3. Profit!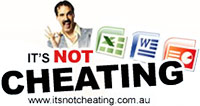 This March I wrote a post about Microsoft Australia's "It's not cheating" offer which sold Office 2007 licenses directly to university students at a 94% discount. At the time I thought whilst it was great for students who would like own a legitimate copy of Office, it was also bad practice on Microsoft's behalf – for example severely undermining the value of Office. But nevertheless, a discount is a discount.
At the same time, Microsoft was also running a competition called the "Golden Blog Awards" which students could submit their blog entries about "It's not cheating" for a chance to win a few prizes. The entry criteria stated you must at least include the word "Office" and a link to the website to be eligible, so I thought I might as well give it a chance since I've easily met that criteria. With nothing to lose, except my dignity, I entered without thinking twice about it.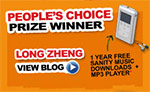 I'd almost forgotten about it, only to find out today that I've actually won – fourth prize. The prize is a music downloads subscription plus a Samsung or iRiver MP3 player. Having my beloved iRiver Clix only pass away last night, one might almost call this fate. If it turns out to be not the iRiver Clix, or some non-video-capable Samsung alternative, I might even give it away here. Stay tuned.
But wow, first prize winner Robert Kingston truly deserve something. A whole Lego-animated storyboard about King William (Gates) waging a war against the evil Lord Macintosh and Linux-Hood set in the land of Microsoft. He's got even more time on his hands than I do.