Inside the Insiders is a series of interviews with some of the most recognized and outspoken Microsoft influentials, journalists and enthusiasts I know. I plan to go around interviewing as many of these peers as possible to find out more about their background, life outside of Microsoft and their darkest Unix fetishes. At least that's what I tell them. Little did they know their answers will help me annihilate them and my other competitors.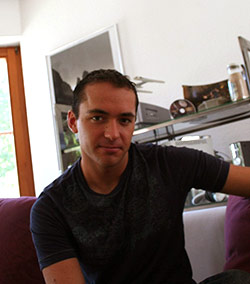 With such a serious face, I dare not caption anything humorous.
Sandro Villinger was one of the nicest people, out of a whole groups of nice people, whom I had the chance of meeting at this year's CES show. He's German, but let not his background fool you. He's fluent in English, probably more fluent than I am and is one of the top Windows Vista writers in a non-English speaking country with several books and magazines under his belt. But don't just take my word for it, a lot of other Microsoft bloggers and journalists feel the same way. I had the chance to chat with Sandro to find out exactly what makes him tick.
So who is Sandro Villinger?
I give you some quick key words about me: name – Sandro, Villinger, job – writer/author, self-employed, Microsoft, Vista, magazines, online, Italian food, passionate, traveler. That sums me up really quickly – want more? 😉
Credit card number please. So what do you think makes you a "Microsoft influential"?
I tend to think I influence Microsoft and/or its products a little bit. I've been working with a lot of MS employees on a couple of projects that include localization of Windows Vista in Germany, the MS community portal
WindowsZone.de
(which I've helped build/design/maintain from 2004-2007), product feedback via the beta tests, some dialogs with the teams and other smaller projects. It's not a lot but I hope I made a small impact on the company.
That was more of an "active" way of being influential. Through other media (ex. magazines) I have noticed I have often made a passive impact. For example I often criticized Vista's performance before RTM on several blogs and in a magazine article and my (passive) feedback was escalated to a couple of the big folks in Redmond.
You're from Germany. What is it like to be an evangelist in a non-English-speaking country? Your English is excellent, but there must be some downsides such as all betas and early information is mostly in English. But the fast cars make up for it?
Well, to answer your last question first: I drive a French car 😉
I don't have problems with betas and early information being in English. My problem is that Microsoft releases early Betas for U.S. residents ONLY which make it hard to spread the word to my readers in Germany. A lot of times it is extremely hard to make beta versions run on German Windows machines.
An advantage of writing about Microsoft in another language: Microsoft Redmond doesn't watch you as closely! So a lot of people (I don't include myself per se *g*) release early information or some facts they got from the product teams and get away with it since Redmond's legal team is focussed on keeping the English-speaking communities "clean" (if that's the right word).
Yeah, all their eyes are on pesky bloggers like me. So how long have you been blogging/writing about Microsoft? And how did you get into writing?
Hmm, the idea came one evening while brushing my teeth. I'm serious!
I was helping out at a small Windows help-board and that evening I thought: "Hey, why not open up an own Windows portal". And so I did. Two hours later I uploaded my first tips for Windows 98/Me/2000 (that was by the end of 2000 I think – I was 16).
A couple of months later a German publisher came to me asking if I was interested in writing a book about the upcoming XP release, of course I (being only 17 at the time) was totally crazy about such an idea. After that they put me to the magazine department and I wrote my first article for the "PC Praxis" in July 2002. It was about the first rumors of "Windows Longhorn" (yep, when WinFS and everything was still envisioned). I stayed as a regular until today and started writing for a couple of other publications as well.
Like the official Windows Vista Magazine (in Germany) and the ComputerBILD (very popular mag – especially for beginners). In January Microsoft offered me to do the official Vista Blog in Germany to keep me even busier.
You actually write the official Windows Vista Blog in Germany. How did you score that role? How many lives did you sign away for that?
It's a typical case of "right time, right place" I think. I helped create the Microsoft community portal
WindowsZone.de
back in 2004 – and we (three MS employees and I) maintained and managed it. I wrote News, maintained the main page and helped make decisions. So the responsible WindowsZone.de manager Christian (who is also in charge of the entire Microsoft Germany website) recommended me for their new project called "The Windows Vista Show". One part of it is a podcast (each one with a different topic such as photos and videos, music, productivity etc.) and the other part of "The Show" is my official Windows Vista Blog. I quickly agreed (that was back in December 2006) of course and was so honored that I could take that job.
You can visit it by going to www.windowsvista.de (click on the link in the middle) or going to http://windowsvistaderblog.spaces.live.com/ directly. And so far I can say the blog is going very good with a couple of thousands visitors a day and good feedback from the community.
One interesting thing about it: Microsoft wants me to speak totally free and I am able to criticize some products or decisions without the fear of my head rolling – which is unusual for a official Microsoft website. And I am very glad that I am not a marketing machine and people appreciate this.
So how did you first become interested in Windows or Microsoft? What was the first time you used Windows? When did you come to realize the big evil corporation that is Microsoft?
I was 10 or 11 years old. My dad just brought home this really incredible computer that was a 486 100 Mhz, a fantastic 8 MByte of RAM, 1 MB Cirrus Logic VGA card and a 2x speed CD-ROM drive. For about $4000 (that was sometime in 1994) there was this software thing loaded up called DOS 6.22 and Windows 3.1. And on boot screen I saw the word "Microsoft" for the first time in my life that was when the evil empire lured me to the dark side.
Of course, being so young I mostly played games. But I quickly figured out playing games isn't just inserting a cartridge (hello SNES) into a small console. A lot of times I encountered cryptic "Not enough EMS memory, not enough XMS, not enough conventional memory, more high memory necessary" while trying to run all the DOS classics (you know, Monkey Island, Larry etc). So that made me enthusiastic about the Microsoft architecture and I basically learned all the DOS and Windows books I had by heart. That's how it all started I guess.
What is your favorite feature in Windows Vista and Office 2007?
My favorite feature in Vista isn't a real feature: It's the stability and reliability of the system! I have never in my life had so few crashes with any OS. When I take a look at the reliability/performance monitors in Vista I can see that (on my main machine) Vista crashed 35 times in the last 6 months. And 31 of these times it was entirely my fault because I had the stupid urge to play around with nVidia beta drivers or fiddling with older/abandoned software.
A couple of month ago I told everyone that I don't see any "killer feature" in Vista but after these months of experience with RTM I can truly say that reliability is this killer feature I've been looking for.
Office 2007? To tell you the truth: I work with Office but I don't do anything fancy with it – I mean, I write my magazines articles in word but I just send the plain text file to my editors.
So I am not THE Office expert but I would say that I love the new ribbon UI and the way it's designed. Sometimes it seems magical to me: It's an entirely different approach in terms of UI but people still find what they need and feel comfortable using it after minutes!
How do you continue to learn more about Microsoft and its products? Are you a "RTFM" guy or "get your hands dirty on the latest betas"?
Mostly I get my information from the TechNet / MSDN websites and the MS team blogs. There are so many great and hidden treasures (for example whitepapers) there – I spend a lot of every week just reading all these papers and specs. But on the other hand I also LOVE to get my hands on the latest betas (or alphas!) and just figure things out by myself. So it's a mixture!
And I often talk with friends/colleagues at Microsoft who take the time and explain reasons and procedures behind the products which is a great learning experience for me.
I hear you travel a lot. How many Microsoft trips have you been on? How many destinations have you been to in total?
Oh yes! I absolutely LOVE to travel. It started in 2004 when I had my first MVP Summit in Seattle – it was hard to get my teachers (yep, I was still in school back then) to let me go a couple of days before the spring holidays. Since then I've been to PDC 05 (L.A.) and MVP Summit 05 – I got a car and drove since the two events were just a few days apart. After that I took three more weeks off.
Since then I've been to MIX06 in Vegas, TechEd 06 in Boston, CES 07 (where I met you!) and the Vista Launch in New York. And there are several events in Germany/Europe I go to but I rarely count them since they're just around the corner.
This summer however it's a little quiet – I decided not to go to Mix07 and WinHEC this year because I've traveled too much and I got the feeling to stay home a little more.
More recently I just returned from Hawaii. A friend of mine lives there for a couple of months and invited me for 3-4 weeks – and since I'm self employed and just need some laptops to work with, I agreed. We are big LOST fans and went on a movie location hunter tour all over the island.
What did you study in tertiary education (university)? If it's not related to computers, why were you fascinated by computers?
Actually I did not study at a university. I went to school until I finished class 13 and the "Abitur" (it's a diploma from German secondary school qualifying for university admission/matriculation). It was hard doing school AND my work at the same time and school always suffered. Most people (parents, teachers, friends) advised me to reduce my work to almost 0%. I didn't listen to them.
And today I can say: I am glad I did not listen. So far I am so happy in my job, I reach many people out there and also financially it's going well that I couldn't imagine a better position right now. I think it's rare that people say "I am absolutely happy where I am" but I am and I wish and hope it stays that way.
This secondary school (we call it a Gymnasium here – but I understand the English meaning is somewhat different, hah) was focussed on computers (programming, Assembler, Office etc.) but I didn't get much out of that. But why I am fascinated with computers? I think the fascination comes with all the possibilities that arise in the near future. I mean I just set up my Windows Home Server and I can see that product/concept change the way families interact with their media at home entirely.
It's only one example why I am still so fascinated with these little wonder machines ;).
If a choice was given to you to interview either Bill Gates or Steve Jobs, for equal amount of time and otherwise, who would you choose and why?
I would go with Bill Gates, definitely. Especially right now – I mean back at CES he was the only direction and source on Windows Seven before Microsoft issued the "guys, shut up about Windows Seven – we just released Vista" press release and I would squeeze every dirty detail about the upcoming OS out of him (at least I would try to). Most of the things he mentions are visionary but a lot of his ideas and visions have come true years later. That is why he is one of the most interesting interview partner ever!
Currently you write full-time as a profession. Is that something you think you will do for the rest of your life? If not, what do you think you're going to experiment with?
For right now writing is the perfect job for me – but will it still be in one year? In five years? In ten years? Truth is: I don't know. I watched myself change habits, my way of thinking and my life so many times over the past two or three years that I am very careful with predictions.
I told you earlier in the interview that I've been to Hawaii recently and I met Andrew Divoff, a cast member who plays "Patchy" (Mikhail Bakunin) on LOST. During the conversation he started talking (perfect, I might add!) German all of a sudden and explained he has been a German travel guide in Spain before he became an actor in Hollywood. I mean, wow, such people impress me and these are the kind of changes I would love to see in my life.
One thing I am very sure about: within the next years (2-5) I will try to move to the US and run my business from there for a while – maybe a year. Since I am not location-bound at all I could work from wherever I have internet access – so I guess I should use that opportunity. But there are still things (immigration, greencard, visa etc.) that I have to overcome but I am working on that. Although I like it here in Germany it's getting boring after 22 years and there is nothing that can even come close to cities like New York, San Francisco or Las Vegas and places like the Nevada desert, the California Coastal Highway or the Grand Canyon. So in the near future I guess my work will remain the same but the location might change.
In the far future I guess my work will change. I also would love to work for Microsoft and I have even gotten a couple of offers from MS since I started my own business but the "perfect job" (I know that doesn't exist, but you know what I mean) hasn't arrived. I am very happy where I am right now and I would be stupid to give that up for a less influential job from within Microsoft whereas now I can influence the company much more from the outside.
Thanks Sandro. I've got my eye on you.
Thanks. When I read your interview with Robert McLaws I was absolutely stunned by your questions and his answers. Because I would have answered most of them the same way he did (e.g. meeting Bill Gates at CES, working for Microsoft, missing out the college experience) – I found that us geeks that are writing about Microsoft often times share a similar background.
That's just more evidence you're all clones from Microsoft marketing.