If you're thinking of taking a picture of yourself exposing some parts of your lower back region in-front of famous landmarks in Britain with the intentions to see it on national TV, then you might have better chances entering in the BBC London 2012 Olympics logo competition.
When Microsoft Live Labs first showcased the Photosynth software back in July of 2006, everybody knew exactly where they were going with this technology. That is, photo-tourism – the ability to browse a vast virtual 3D space of photographs and other visual materials to recreate the effects of being at the location itself. And the second thing that comes to mind is, where can I submit my photos? Well, you couldn't, until now.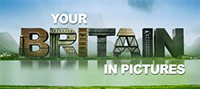 On top of the BBC's existing "Your Britain in Pictures" Photosynth galleries, Microsoft has just announced the ability for camera-happy amateurs and enthusiasts like you and me to submit photographs to expand their collection. Although don't go jumping outside taking pictures of your neighbors just yet, its only limited for a few historical locations. Currently, and for a limited time, tourists of the Ely Cathedral, Burghley House, the Royal Crescent, Bath, the Scottish Parliament buildings and Blackpool Tower Ballroom can have their photo submitted to specially-marked BBC buses for the opportunity for their work to show up in the Photosynth collections or even national TV. Photos will be manually screened. In addition, no words on whether or not photos from the BBC Flickr group will also be allowed.
Historical and user-submitted images will be integrated into the synths to contrast how people interacted with the locations in the past and present. "This opportunity with the BBC allowed us to test the limits of the Photosynth technology by integrating photographs from decades ago of the UK's historic sites along with those of the general public today." said Adam Sheppard, group product manager for Microsoft Live Labs.
Hopefully this is just another small step before the giant leap to open up Photosynth for everyone and anyone to contribute with photographs from anywhere.
Photograph by

Andrew OBrien

For anyone who appreciates pictures – imagine being able to wander around entire cities not just from the street-level in the middle of the road looking for obnoxious behavior, but from roof-tops, office windows or even in the air from planes.
For shutter-bugs – the difference between uploading your photo and have it appear in the Photosynth world can be just 10 seconds – that's how long it takes for the software to optimize the parameters for each new photograph. With Flickr's amazing storage, tagging and mapping capabilities, similar photos can help expand each other's meta information with rich information on where the picture was taken and what the picture is of.
But if you've already traveled the world and photo-tourism doesn't interest you one bit, then imagine a real-estate house tour with Photosynth. It would be light years ahead of slide-shows or even more complicated Quicktime VR presentations. No more, "hey that door wasn't there in the picture" or "this kitchen feels smaller".