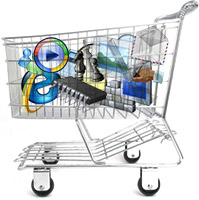 A Microsoft patent application from June 2005, published only today, titled "System and method for delivery of a modular operating system" may signal a fundamental change for what an operating systems stands for and how it is sold.
Today, an operating system has pretty much everything besides the kitchen sink. Although I wouldn't be surprised if an obscure Linux distribution included that too. Some people expect an operating system to be feature-packed with multimedia players, games and even productivity suites. Others just want to play Solitaire. Where do you draw the line for the fundamentals? And where do you draw the line for features?
I don't use or could potentially see the use for what half of the Windows operating system comes with. Why should I pay for HyperTerminal or IPv6 when I don't use it?
A modularized operating system may be the answer. As this patent describes,
An operating system and method for use include a core function module, or basic kernel, providing fundamental operating system support and one or more add-on modules that allow customization of the operating system as desired. Add-on modules may provide support or extended capability to the computer including hardware, applications, peripherals, and support.
Simply put, think of LEGO bricks. You start with a base board and attach the bricks you want. You decide on what you want and don't want. You could end up with a Lego Mac or Lego PC.
The basic kernel may supply functions such as basic memory management, system input/output, boot processes, file system support, and fundamental display capabilities. … A basic kernel add-on module may provide support for additional memory or multiple processors, for example.
As the patent illustrates, add-on modules may be divided into four categories: hardware, peripherals, communication and applications/bundles. Examples of modules include but not limited to power management, multi-processor support, peripheral support and network interfaces.
Of course, this doesn't mean installing an operating system will mean installing 500 separate modules just to boot.
While most of the capabilities discussed in the following are also shown above, application specific packages or bundled add-on modules may be used to provide easy support for users having a specific interest.

For example, a power user may want specific window and background themes with associated styles, a significant number of concurrent windows, and an unlimited number of concurrent applications, up to the capacity of the hardware.

A game support pack including advanced sound support, game controller support, and increased video memory may be of interest to those users primarily interested in interactive games.

Users of business support applications may benefit from a support pack including high speed disk access, network drive support, and network printing, for example.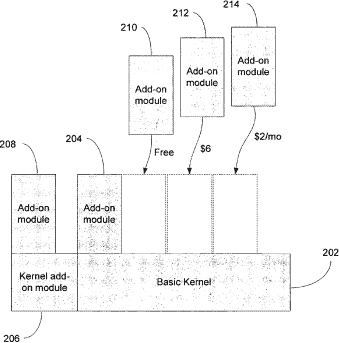 This patent also describes the business-model for selling such an operating system. For example, the basic kernel could come at a very low or even dare I say, free price. But knowing Microsoft, I doubt it. Add-on modules could either be free, sold at a price, or even sold as a subscription. The idea of paying a monthly fee to use an operating system might seem outrageous at first, but the same concept has been widely adopted with loaning cars and for most people, it works out to be more economical.
Ultimately, this concept can be good or evil. On one hand, if the cost of modules is priced favorably, most people could save on the cost of operating systems by only purchasing the bare minimum. On the other hand, users who want it all might end up paying even more compared to what they had previously.
For now, this is nothing more than just a patent (application). Whether or not Microsoft actually implements such a plan might be years away or even never.
By following a process such as that described above, users benefit from the flexibility to add only those capabilities to an operating system which are of value, and, in some cases, for a period of time as needed. Operating system vendors may also benefit by reduced piracy of full capacity operating systems in favor of widely available core operating systems that are easily upgradable in affordable increments. Lastly, service providers or system operators who may be providing computers on a pay-as-you-go or pay-per-use basis may be able to limit installation of potentially harmful applications or hardware peripherals by restricting the installation of required operating system add-on modules.
But for the record, I think this is a great idea. Even if it does sound a little like Linux/Unix.