They'd had some really nice cards.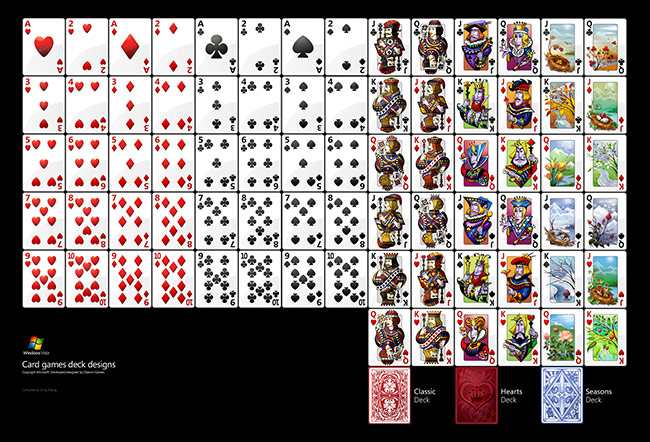 Windows Vista comes with 4 unique deck designs (3 pictured, Large Print excluded) for its bundled card games including FreeCell, Hearts, Solitaire and Spider Solitaire. Each deck portrays a unique theme (Classic, Hearts, Seasons) with unbelievable detail on card faces and backs. The Seasons deck by far is my favorite. I'm even playing Solitaire just to see these cards.
Of course, these and every other games in Windows Vista are not actually designed by Microsoft internally, but outsourced through Oberon Games. Oberon designs many great looking games and have close ties with Microsoft, publishing many games through Microsoft's casual games channels such as MSN Games and XBOX Live Arcade. With the former manager of Microsoft Game Studios, Don Ryan joining Oberon as Vice President of Publishing this year, this relationship can only strengthen.
I don't think it would be unfair to speculate Windows Ultimate Extras will deliver additional Oberon Games from time to time. Such as the long-forgotten Texas Hold'Em Poker we've known since Beta 2.