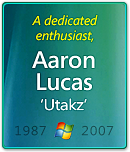 This week, Vista enthusiasts and the Microsoft blogging community lost one of its most insightful enthusiasts, Benjamin Aaron Lucas, or otherwise more popularly known as Utakz.
I must admit, we've had our differences, especially on the heated debate about the existence of Aero Diamond (which will have an end soon). But nevertheless, he had his fair share of scoops and inside information. If you wanted the latest screenshots of an Vista internal build or build just to be released, he had it, and he also had all the nitty gritty facts about what's new since the last builds. No doubt he was someone who knew their stuff.
Today when I learned of his and his sibling's tragic death, Josh proposed the idea of a website badge to show our tributes to him. So I decided to make this badge as my way of remembering his hard work and dedication. I must admit, I drew inspiration from Donavon countdown gadget.
If you would like to use this graphic too, then copy/paste the following HTML:

This is not a good week. Rest in peace.