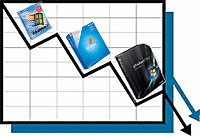 The one-and-only Robert McLaws has taken Microsoft enthusiasm to the next level. Some say Windows Vista is a rip-off. Some say Window Vista is more bang for your buck. But Robert wanted to find out scientifically if the value of Windows has changed over the years from the pocket which matters the most.
It's been 22 years since the Windows operating system. 22 years since Steve Ballmer had to appear on TV to sell Windows. 22 years since Reversi was a selling point. 22 years since a sub-$100 operating system. What has changed in the last 22 years? Is Microsoft really greedy? Or should Windows Vista be in the bargain bin?
Robert has the numbers, the tables, the graphs and over 10 years of never-before-seen press releases for Windows 1.0 up to 95 and today. There's no denying he did his research. But if he told you Windows Vista was the cheapest Windows operating system ever released, would you believe him? If you don't, prove him wrong. "Understanding the true cost of Windows".