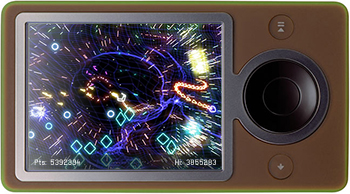 Earlier this year, Peter Moore confirmed to Bloomberg Microsoft's plans to add video gaming capabilities to the Zune by July 2008. Today, I found several Microsoft Careers job postings which provides more proof of Microsoft's intentions to make the Zune a casual-gaming platform as well.
As the posting for "Software Development Engineer in Test" posted on the January 4th 2007 states,
Zune needs you! Do you love music, movies, gaming? Are you passionate about delivering cool consumer experiences that span the entertainment space? Do you like the idea of being on a start-up team? Come join the Zune effort and help build the next generation of portable digital entertainment. Be a part of this start up team which will reshape the way people engage with their games, music, and videos. Have fun every day on this fast paced, ultra creative team and help Microsoft go big in this space!
Another posting for the role of "Branding Manager" posted on February 14 states,
Zune, the new entertainment business at Microsoft, will define the next generation of entertainment – a new way for people to engage with their games, music, and videos. Imagine if you could connect to your entertainment wherever you are, on the TV, on your portable media device, on your mobile phone, your Xbox or at the PC-your entertainment at your fingertips. We're the team that's creating and executing the business plan and partnerships to make this vision a reality.
Gaming on the Zune could be much more exciting than just Tetris and Sudoku. With the Wifi-connectivity built in to the Zune, I wouldn't doubt games will take advantage of the social capabilities such as multiplayer, trading games and even XBOX Live integration. Just as much XBOX Live Arcade gave breathed new life into arcade gaming, the Zune could take advantage of the same idea and deliver high-quality but simple to play and ultimately fun games on-the-go.
But for most games to work, the Zune needs more than a D-pad and clicker. Guess we'll have to wait for hardware rev 2.