Picture credit:
Neowin
Today, Microsoft's Aaron Coldiron and AMD's Pat Moorhead awarded Audrey Murphy the meta prize for the Windows Vista Vanishing Point puzzle game which concluded over a month ago.
Audrey and her husband Ryan won the "AMD Signature Chip Bonus" otherwise known as the meta puzzle by correctly guessing the real name of LOKI, an abbreviation for four fictional characters which were the game-masters behind Vanishing Point. This bonus prize, which has a priceless value, gives the winner the opportunity for their name to be forever immortalized (until you upgrade) on 1000 AMD Athlon 64 FX CPUs.
She and 476 others share a prize-pool valued over $500,000 including the grand prize for a trip to sub-orbital space provided by Rocketplane XP, not Rocketplane Vista I might add.
As per her request, AMD has also inscribed the names of two community websites, Neowin and unFicition which were easily the two leading communities which showcased amazing talents and willingness to collaborate on solving some of the most intricate puzzles ever devised.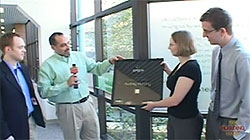 Aaron Coldiron, Microsoft (left); Pat Moorhead, AMD; Audrey and Ryan Murphy (right)
Bleeding Edge TV was also on-site to conduct one of the most unscripted and awkward interviews I have ever witnessed. The 11 minute interview can be summed up by Audrey as "are you serious?" when asked to "tell the story", who later shook in laughter.
The games' organizer, 42 Entertainment has also published a full list of all the winners who's eligibility has so far been confirmed, one of which I even go to school with.
To further the evidence of a Vanishing Point game sequel, AMD's Pat quipped, "are you going to sign up to the next one we do?". As a result of all the success and publicity generated from this first attempt at such a unique grand-scale game, I have no doubts Microsoft and AMD executives were quick to jump on the idea of milking a successful marketing stunt with only such a small investment compared to any other form of advertising.
This is quite easily another success story for 42 Entertainment who's been on a ball lately.
Update: Microsoft's Aaron Coldiron says,
"I know there is a lot of interest in this, and we are really happy with the results of Vanishing Point. It was amazing to see the community come together to solve the puzzles and to send someone to the ultimate vista. Right now we don't have any additional information to share about future plans."