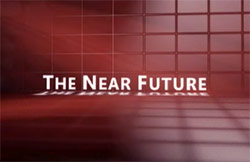 Stephen from AeroXP has snatched an exclusive from Microsoft's killer deck of concept videos showcasing Microsoft's vision for the future of computing. This particular 6-minute long video was produced in 2005 and focuses on the scenario of 'real-time collaboration'.
The story involves a scientist who was snowed-in on return from his vacation, forcing him to work as well as give a presentation to 900 other scientists all from the hotel room. It's a story we can all relate to.
The technologies this demo utilities includes smartphones, mobile connectivity, cross-platform communication, Tablet PCs, virtual office synchronization, collaborative editing, professional networking (think LinkedIn), VOIP, internet shopping and remote presentations with video.
This is also a particularly 'red' concept with most technologies glowing a warm shade of red for all consistency purposes, or perhaps in 2010, red becomes the world's favorite color.
There's a lot to like about this video and all other Microsoft concept videos, that is, everything works like if it was shaped by the hands of programming angels. However, that is also its flaw. Everything clips together like little Lego bricks with other Lego bricks because it was designed for only one purpose in mind, to demo in this prototype.
In the real world, you have standards, protocols, specifications, the European Union and everything else designed to make sure one thing doesn't work with another unless you pay someone a truckload money. But it's always good to dream right?
I'm always in awe of how much time and effort Microsoft designers puts into prototypes – concept art, videos and interactive demos. If you think about it, even filming something like this is comparable to a small-budget short movie. So much attention has been paid to make sure everything's pixel-perfect; animates and interacts as if it were a real product and most times, even better than real products, which leads me to the question "why aren't real products this good?".
To end on a light note, I thought the ending scene was priceless. Here's a few interesting screengrabs.