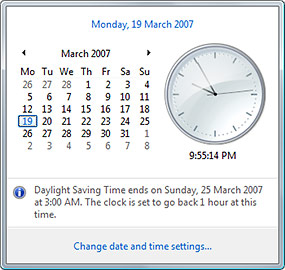 I think I found my Wow, however it's not as grand as the space shuttle launch or the Berlin wall coming down. I was looking around to find out what was the deal with Daylight Savings Time, so I clicked on the clock and there it was, in plain English. And they didn't even have to use the "lose/gain an hour sleep" analogy.
It's all these little things in Windows Vista that adds up to an experience you can't ever emulate with no matter how many visual style + icon + wallpaper transformation packs you apply. Per-application volume control is another great example.
You won't find this on the back side of the product box, you won't find this in Tom's Hardware review and the NY Times will never write about it, but it doesn't mean little things like this don't exist.
Don't spend 5 minutes at a local computer shop playing with Flip 3D to decide on why you think Windows Vista is mankind's biggest failure. Be realistic. Use it, then judge it.
Update: Oh I forgot to mention, the new date and time widget is just amazing to begin with! The clock imagery has been updated for the first time in 10 years (since Windows 95), and you can now scroll through the calendar without having to change settings. Probably makes up for 0.0001% new lines of code in Vista, but 100% satisfaction. 🙂