Like I've said a month ago, Windows Vista is full of little things that doesn't write the history books of computing or utilize your $1000 GPU cards to pump-out breathtaking 3D effects, but it adds up. This is another one of those little gems, called the "Windows Mobility Center".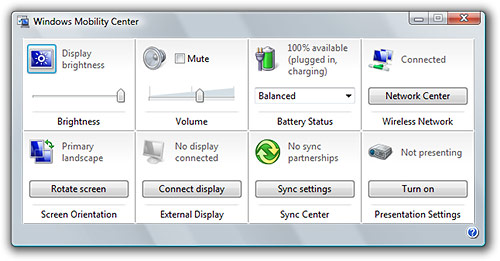 The Windows Mobility Center is an applet – the equivalent of a fresh-born software program not bloated with splash screens, toolbars and task panes. In fact, I don't even know why it has a help file. It's sole purpose in life is to configure mobile PC settings – quite a crappy life really.
In the past, to change the brightness of the display, volume of the speakers or the screen rotation either meant giving your fingers a yoga workout – holding one key whilst trying to press another conveniently placed inches away from the span of your hand; or digging deep into OEM application branded like NASCAR vehicles which also comes with 50 startup processes just so you can rotate the screen on-demand. It was so outrageous that even the patent inventors described the experience as "tedious and annoying". Right they are!
What makes "Windows Mobility Center" tick is its (over)simplification. It's one centralized interface with one tile representing one feature. Every tile has only one icon and one control – one slider, one dropdown, one button. It just works. No learning curve, no advanced options, no "Ok" button. You just click and go.

I keep a shortcut in my Quick Launch menu to it (drag and drop the link from the Control Panel) for quick access if I'm in tablet mode, or just Windows key + "X" when I'm in keyboard mode. It's an applet so it opens in an instant, and once you're done, you just close it. I'm running out of positive adjectives, it's just brilliant!

What I really want to see is developers taking advantage of this simple interface to build mini-applications with one purpose in mind. For example, a lot of the times when I listen to a podcast I want to turn off my laptop display without waiting for the screensaver or going to standby. There's a lot of applications out there that does this, but comes with an installer taking up several MBs bloated with unnecessary functions. I'd love it if someone could build a "Turn screen off" tile for the WMC. Any takers?
If you think about this concept of aggregated control panels, it could apply to many other scenarios. There could be a "Windows Performance Center" for desktop PCs targeted at high-performance users such as gamers. Maybe there could be options to control the fan speed; switch between predefined performance modes which balances noise and performance; an option to disable system sounds and prompts; an option to quickly disable non-critical system processes to reduce load for resource-intensive applications.
Does anyone else share my passion for the Windows Mobility Center?