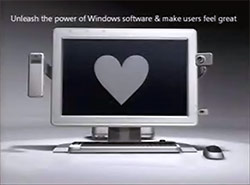 After 4 years of loneliness sitting inside a dusty server at Redmond, the video stream from Hillel Cooperman's infamous presentation "Getting Users to Fall in Love with Your Software" at Microsoft's Professional Developers Conference in 2003 has finally trickled it's way out. It was so applauded at the time some bloggers even confessed "I've Fallen in love with a presentation I've not seen", and neither have I.
There's something about Hillel's presentation style that induced me into making it my life's purpose spare-time hobby to find this forgotten video that never got released on DVD. It became a forgotten treasure sunken deep inside Microsoft's archives. I finally got the opportunity to see it today and for the most part, it lived up to its hype. Other bits were a little stretched out.
It would be foolish of me not to share this with anyone else who's been dying to see this, so I've taken the liberty to cut up this hour long presentation into little minute-long pieces to give you a highlight from the best of the best. Anyone interested in the full-length videos should not hold their breathe as distributing such a large video is not on my to-do list.
If there's anything Hillel does best, is engaging the audience. Here, Hillel jumps off stage to play with someone else's toys, showing off the impact of new PC form factors.
Defining the AERO goals, includes a funny story from usability labs on what the problem is.
A quick quip about exposing power to users, Hillel picks on Microsoft Office as an example.
Making trade-offs to balance exposing power to users.
"We make users feel very bad". Hillel comes down to earth to explain what one of the biggest problem with Windows is. What error messages really say.
The Microsoft helicopter joke.
Hillel shows off the problems with the XP print wizard.
Hillel "loooooves" his tablet. Hillel is special.
A demo of the AERO "notepad" experience.
A full 5-minute overview of the AERO user experience including a special mention to Jenny Lam at the beginning!
Hillel discusses the AERO notifications platform whilst also working in a funny story about him and his mum.
The problem with hardware experiences and the "sticker" issue.
This presentation was so successful that even at PDC 2005, there was a sequel appropriately titled "Getting Users to Fall in Love with Your Software: 2005 edition". Somehow, I don't think there will be a 2007 edition at this year's PDC. Although if there is, it wouldn't be the same without Hillel. Perhaps a particular Dutch-man might take up the task. 😉