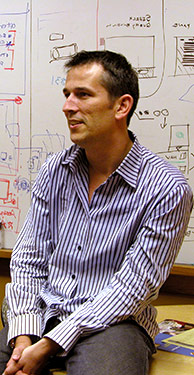 A Microsoft employee who worked with Tjeerd said only a few weeks ago, "I hope Microsoft is able to get great use out of him – he has true talent." I guess he didn't see this coming either.
The trend is clear, Microsoft is losing some of its most dedicated, most talented and most inspiring employees from the Windows client group. It started with the father of Windows, Jim Allchin; followed closely by the person who changed the perception of user experience, Hillel Cooperman; most recently the graphics-wonderwoman, Jenny Lam; and now the top-gun of Windows User Experience, Tjeerd Hoek.
It shocks me as much as it probably shook the entire Microsoft Design group to comprehend such a key figure leave the company so unexpectedly. As someone who chats with him frequently (we have some very memorable conversations) and have met him in-person at CES this January, it didn't cross my mind even once that he wanted to do something else. He was so passionate and involved with everything he did. But then again, I said the same about Jenny Lam. 😉

Even though it is a bit hard to believe, it's even harder to believe Tjeerd has been with Microsoft for 13 years, nearly as remarkable as Gandalf Allchin's 17. He joined Microsoft in 1994 straight out of a masters in industrial design from Holland with the ambition to "do something meaningful and design products that are being used by lots and lots of people". Over those years, he's worked on everything from Microsoft At Work, Microsoft Office, Windows "Neptune", Windows XP, MSN Explorer and most recently (for the longest amount of time), Windows Vista.
There's a lot of experience, expertise and PowerPoint slides at stake here. Microsoft is not only losing an employee, but an employee who knows how it all works, how teams works best, the strengths and weaknesses of each designer, and general user experience expertise. Every person who I've come across who's had experience working with him or for him speaks highly of him. So far yet, there doesn't seem to be anyone replacing his position.

Tjeerd has taken up a position for Executive Creative Director at Frog Design, a leading industrial design company with offices around the world, including Seattle. I assume Tjeerd has joined Frog because many of his former Microsoft Design colleagues are there, most notably Cees Van Dok who worked with him on Windows Vista. But also, Frog has a rich history of supporting and developing for new Microsoft technologies including most recently, Windows Vista and Expression. Some of their recent works include the candy-licious WPF-powered Yahoo Messenger.
Hopefully, I'll catch up with Tjeerd next week to find out about why he left, the fate of his infamous PowerPoint deck as well as everything surrounding Microsoft and Frog Design and who he thinks I should stalk next. Until then, I wish him the best of luck at Frog and it certainly won't be the last we'll see of Tjeerd in the world of Windows. 🙂
Update: Frog Design has now published a press release showing off their new catch.