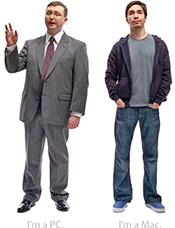 Mary Jo Foley, whom I respect very much, has unintentionally started World War III. The Apple enthusiasts are on a full force assault against Mary Jo and other Microsoft enthusiasts, armed with some of the most childlike, indecent, or down right foul insults I could possible imagine. And for what? What is it going to achieve? Why are we so hostile? And why are we divided in the first place? Questions I think some people need to ask themselves, and without criticizing anyone else first, I need to ask myself.
So the back-story is that Apple demonstrated a lot of "sort of new" features in Mac OS X "Leopard" which some people were not all that impressed with, but with the overall census that it's a great operating system. Sparks began to fly when people started comparing it with Windows Vista, not just because it was natural to compare similar products, but since Apple has mocked so much of it in the past, it's probably fair to reverse the equation. For the sake of neutrality, I'm not going to say any operating system is better than the other. They're just different.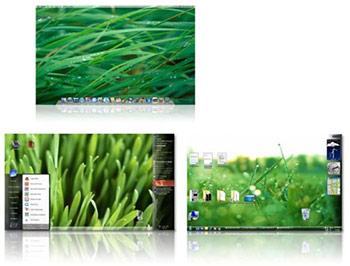 Apple OS X Leopard (top).
Windows Longhorn demo (left). Windows Vista (right).
One of the big arguments was the "new desktop" feature in Leopard, demoed as feature number one by Steve Jobs, is very much like the Vista desktop. In essence, the desktop of Leopard has been updated with a translucent menu bar, a new dock and more focus on the wallpaper. Let's not judge if these are for better or worse, but why. The answer is, "I don't know". Strange, but true. I don't have any contacts with Apple and certainly not with the Apple Design Team. In fact, it would be true to say that 99% of the people 'arguing' don't know either. They speculate, but that's not the same as knowing the exact process behind the decision. (Which given Apple's tendency to keep things very tight, most likely won't surface for the next millennium.)
But, on the other hand, after chatting with Tjeerd Hoek, ex-director on the Vista design team, I do know why Microsoft made the decisions it did with the Vista desktop. For example, nature, and specifically grass, were inevitable for every default wallpaper that shipped with the Longhorn/Vista betas. Why was this? Tjeerd says it was to enhance the perception of Glass. Aero Glass that is. "To make Glass really visible, and especially our fancy and costly Gaussian blur and frosting, it is important to see a delta visually on the edges where the Glass surface ends. Thus you want a background with clear, visible lines."
If you think about it, there are unlimited choices, and an important choice. Tjeerd explains, "Now, obviously wallpaper isn't exactly a key functional feature, but it is one image you choose very carefully and it ends up all over the place of course as a central player: it still is the face of your product in many ways, even just in sheer pixel count/size."
So now you're saying to yourself, "Good for them. But what does this have to do with Leopard and WW3?" What it means is that Microsoft had very specific, practical reasons to select the type of wallpapers they used for the interface they had developed. Translucency being the common factor, it could be highly, if not definitely, possible Apple arrived at the same practical reasons to make the choices they have with their interface.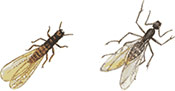 Ants vs termites. Did ant sue termites for violating animal patents?
People often attack each other or other companies for copying designs and other artistic concepts, with the ideology that they somehow 'own' an abstract expression (Just like Cadbury wants to own the color purple), but science would prove that this is not true. Natural selection proves to us in nature at least good ideas become the norm. For example, predatory/prey patterns in the animal kingdom not only compared from the past but across different animal kingdoms show very clear similarities. Isolated, unique evolutionary paths can, and often do, converge. If you take Apple's and Microsoft's design studios as two isolated evolutions, there's no reason why they can't converge on similar ideas. It would almost make sense if they did.

So why do we still 'fight' if it's evolutionarily normal, if not encouraged, to 'copy' ideas? The blame might be on the marketeers. Apple's marketing team throughout the decades have done such a good job at disassociating itself from its competitors, that Apple as a brand has become separated from the rest of the industry, when in fact it's not all that unique. If you don't look at the value, which is created by marketing, Macs are computers. Most of them use the same components as "PCs" and they still function like computers. People were told to "think different" and so they did. And now we've reached the bottom: insulting each other.
I know all of the above won't float everyone's boat, especially those boats with a hole at the bottom, but I just want to highlight some of the reasons why I think we're not that different, but have become the arrogant and ignorant users that we are. Apple's moving forward, Microsoft's moving forward, the world is a better place. "Macs vs PCs" started as a marketing campaign, but has become very real. Real ugly that is. Can't we just be nice and get along infesting the world like ants and termites?
This whole saga brings back memories of the Kathy Sierra story, and how far is too far. For example, a post by a guy called Edd Morgan.
On top her (Mary Jo) severe ineptitude at even pretending to know enough about the computing industry to form an objective opinion, she can't write any better than I can (as can be seen on her blog Microsoft Watch—but I'm just a blogger on the intertubes. She must have sucked an inordinate load of dick to get her position at ZDNet.
Whether you agree or disagree with anything he says previously, he did not have to go there to make a point. He could have won me over, but once you go as low as that, you lose me completely.
Fanboys, any side, as loud as they are, are becoming moral slugs of society. They know no boundaries, and go to war over what? Why the hell do you need to insult someone to make a point? Don't you have any logical arguments? Stop throwing rocks from the covers of anonymity and try to act like there is some human decency in you.
Update: Somehow, human decency doesn't appear to apply to "Edd's generation". As he writes, "The immaturity is simply a bonus to my generation, and was obviously not very well received by you. Sorry about that. :]". I'm his generation, and I certainly disapprove.
Update 2: For those of you directed to this post by Charlie Owen of Microsoft looking for the latest Click-To-Record XML, you can find it here. 🙂