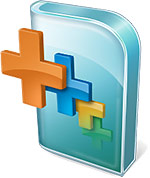 I was going to write about this on June 30, because that would have marked the half-year anniversary of Windows Vista, but since Josh Phillips has already started the conversation, I thought I should keep it rolling. It's funny to read about this now, because I had already lost hope in February. In a post titled "Is Windows Vista Ultimate Extras a sham?", I voiced some of my concerns about Ultimate Extras and why I thought it was going to disappoint. A lot of people didn't agree with me, suggesting we needed more time to allow 'progress' to happen. Well, I think now is a better time than any.
A lot of people no longer remember the elusive dream that was Windows Ultimate Extras, so let's refresh our memories. Straight from the horse's mouth, this was the promise.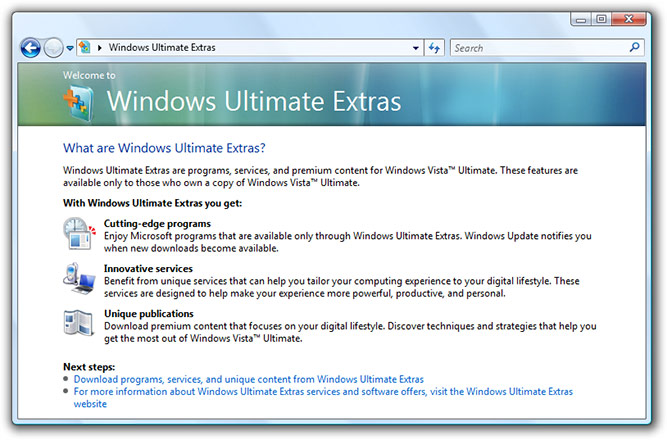 To Microsoft's credit, you can't deny the attraction. It's filled with tantalizing buzzwords that would reach deep into the hearts of every geek and Microsoft-fanboy.

Almost 180 days ago, we started with language packs, BitLocker "enhancements", a poker game and desktop videos. A hundred and eighty days later, the sea level has probably changed more. If you look at it from the "glass is half full" perspective, 4 extras in 6 months, not excellent but we're still okay. If you look at it from the "glass is half empty" perspective, we started with 4, and 6 months later, we're still at 4, we've got a problem. It's safe to say, anyone who paid for Ultimate with their own blood and sweat is going to go with the latter perspective. And that makes a lot of angry customers.
Just to highlight, the JoeJoe community in particular has started questioning themselves and Microsoft over the value of Ultimate Extras. One member has even gone out of way to ring Microsoft and demand to speak to someone responsible for Ultimate about the lack of value they receive. And unsurprisingly, Microsoft has failed to disclose any information which answers his concern.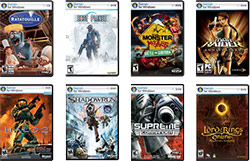 And that's also the problem. This isn't about program features, or even what was promoted, it's about the lack of transparency. For the sake of arguing, Microsoft could deliver nothing for another 6 months, but if they publically acknowledge their lack of due progress, sets a schedule to release their entire "Games for Windows" games library available for users to each pick a few titles for free, I think most customers would accept the value in that. Of course, we live in reality and by the current course of things, you can get more information out of the NSA than you can from the Ultimate team.
I've heard through a reliable source that Microsoft is having problems with the Dreamscene codebase. Simply put, it would not work reliably or work at all on right-to-left language based systems. I believe this is an architectural problem that can't be easily solved by a patch. If this is true, in effect, Dreamscene will be in perpetual beta – will never come out of beta. Why? Because it would be discriminating to release and support a final version of Dreamscene that only works on English systems, where it is only 1 out of the dozen languages Vista are sold with. Whilst in beta, it is excused from such standards. If you thought this was bad, that's not all.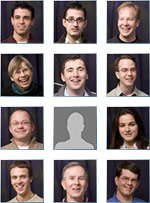 Another bombshell came when another reliable source suggested there is not even an Ultimate team in existence anymore. Some suggest there were never a team to begin with, more of a collection of people all over Microsoft who worked with marketing on Ultimate Extras. This would explain the lack of direction, insight and progress on Ultimate Extras if no one's responsible for it anymore. And also why I'm not getting any nasty emails. 😉
It puzzles me, but not just me, why there is such secrecy about a product that people have paid for? Let's assume they announce their ideas 4 weeks ahead of release, and some third party duplicates the functionality, why does that matter to them? The money is already in their bank. People don't buy Ultimate for the extras that are coming out, they buy Ultimate in anticipation of the extras that are coming out.
With general products, people pay for what's printed on and inside the box, if any disagreement arises over what should have or shouldn't have, it's simple to resolve. But with Ultimate Extras, people are betting on a promise – that Microsoft will deliver useful enhancements to them regularly. And so far, stepping into the maturity of this OS release, that is an empty promise. A promise now not far from a lie.
Update: I hope Microsoft comes out to prove me wrong. Humiliate me. For everyone else's sake.
Update 2: It looks like Microsoft Australia even offered someone a downgrade from Ultimate to Home Premium over at the Neowin forums because he thought he wasn't getting enough value.