For arguably the best gaming platform spanning over a decade now, games management was never an easy or pretty task. I've seen desktops filled with icons, or start-menu lists that would span at least 3 columns of little microscopic icons and text. Folders and icons were not the most attractive solutions to organize your game collection.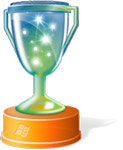 The Games Explorer in Vista changed all that. It is a dedicated virtual folder where your entire games collection is universally accessible, populated with all the meta-data and artwork you'd expect to see from games just as rich with visuals. It reminds me of browsing a vivid collection of DVD covers which shows off its best visual characteristics to get you into the experience.
And what better ways to get a feel for what that might be like than to take a peek at this eye-opening collection of games by "marinexx" on the Neowin forums who shared his impressive library and a tip on how to manually add the box-arts for games which Windows does not support.
That's more games than I have ever played in my life. Of course, I have faith in the legality of his collection. 😉