Update: Language Packs has been found in a dark alleyway. World order restored. Technical glitch to blame.
If you thought the Ultimate Extras situation couldn't get any worse, then you have much to learn young Jedi, because rock bottom is only an illusion. It appears that what was left of the Ultimate Extras – 16 language packs (I know, they are counted as extras) – have now been sucked into the void of unknown. Fan, just som jag ville ha min Vista på svenska ja!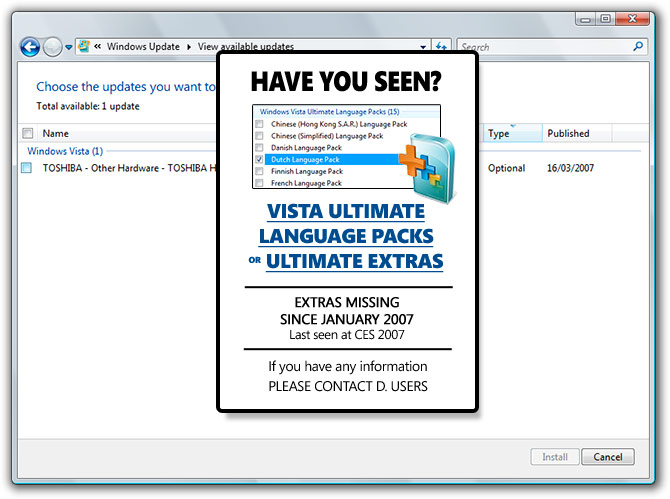 Whether this is a widespread technical glitch or intentional symptom as a result of upgrades to the backend in preparations for more and better Ultimate Extras remains to be speculated. Even if all my money's on a technical glitch, there is still a quantum chance the Ultimate Extras team will deliver on their latest promise to ship the final version of DreamScenes and the remaining 20 Language Packs before the "end of summer" (September).
However for those of you who are in need of their language "fix", a Channel9 member has kindly posted the language pack download links directly from the Windows Update servers. Arigatou!