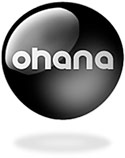 It's pretty much official now that the Microsoft "Ohana" project was either halted or canceled sometime last year. That's a shame because you don't need to be a curator to admire the gorgeous CD sleeves, branding posters and now concept designs for this potentially revolutionary family-networking product and service.
Someone at Microsoft has kindly informed me that you only needed to look a step further to find some extremely insightful "Ohana" interface designs in the same SectionSeven portfolio. I must admit I've seen these before, but it had never occurred to me this was "Ohana". If I were conscious at the time, the picture of a house should have given it away.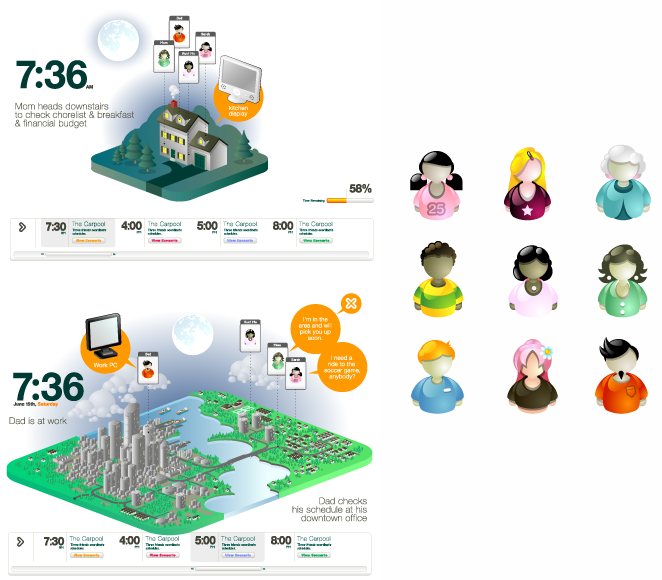 The portfolio description indicates the interfaces on the left are "Microsoft demo screens. Interface and vector demo environment." and icons on the right are "Icon style study. Vector icons with customizable styles." Whilst the buddy icons are simply gorgeous, all the revealing details are in the equally gorgeous interface mockups.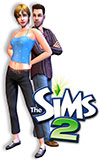 At first, the interface might remind you of a well-made Flash game, but when you start putting the pieces together, it becomes somewhat of a The Sims, Twitter and Facebook mashup. More precisely, I am told the screens demonstrate the family calendaring feature. Apart from showing where each family member is in relative to the home, and the local city region, there is also a very prominent timeline which can only be the family schedule.
"Ohana" also seems to keep family members aware of what other family members are doing through status messages, similar to those of "Twitter". For example, "Dad is at work" and "Dad checks his schedule at his downtown office". However I can't imagine why anyone would write about themselves in the third person like that, so maybe I'm interpreting this feature incorrectly.
Last but not least, there also appears to be a messaging system in "Ohana" where one member asked for a "ride to the soccer game" and another responding to "pick you up soon".
I'm sure these two concepts are not all "Ohana" would have offered if it were a complete service, but I'm intrigued by the idea of a family-(social)-networking tool. With the (imminent) success of Windows Home Server, hopefully Microsoft will pay more attention to the consumer software business.