Microsoft Legal defies logic today by forcibly removing a free and trustworthy software package which makes updating Windows more convenient and accessible.
AutoPatcher, for those who don't know, was an impressive Windows community project that combined publically available Windows hotfixes and security updates each month to form a single package that could either be installed in a batch or burned on to an CD. To those who regularly format their computers or fix other people's computers (for which I share you pain), AutoPatcher not only saves bandwidth but precious time downloading each individual update from Windows Update.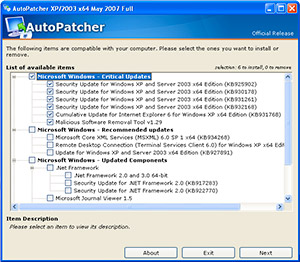 It is not hard to imagine AutoPatcher violated some clause in some terms of service somewhere, but why Microsoft would act on it, and act on it now is unbelievable. If AutoPatcher could be as "malicious" as Microsoft suggests, then why haven't they acted on it sooner?
AutoPatcher has been an extremely active project since 2003, distributed somewhat 40,000 copies monthly over just the official download mirrors, not counting other popular sources such as Bittorent and even leading PC magazines worldwide. I might even go as far as to say some people depend on it.
The Microsoft official quoted on Neowin argues because Windows Update is more accessible now in other browsers like Firefox, AutoPatcher is more of a security concern. Did they forget AutoPatcher patches Windows? And what about those users who don't have a fast-speed internet connection? Or maybe even no internet connection at all? Should those people visit the library each week to just keep their Windows up-to-date?

Reasoning aside, AutoPatcher could well sidestep the legal roadblock by a simple but unproductive workaround. Microsoft argues updates should only be downloaded from the official Microsoft servers to prevent third-party modification, therefore AutoPatcher could instead of pre-bundling the updates, just fetch the updates from Microsoft's own servers (HTTP downloads) to form a similar package on the user's own computers at runtime. Might take a bit longer, but you can end up with the same package. As far as I know, you're still allowed to archive Windows updates, thankfully.
As Microsoft continues to play down the importance of service packs in favor of Windows Update, the ability to collate and backup updates will be come more useful than ever. For that reason, I hope AutoPatcher, or a new project, will solve the problem without attracting the hounds.