Thanks to Stephen from AeroXP for sending this in. Apparently Microsoft Netherlands was so eager to show off Windows Vista, they produced a magazine called the "Wow magazine" in celebration. In it, was a double-page spread on Tjeerd Hoek. As you would expect, he talks about design and Windows Vista, but what you might not expect is the a page dedicated to Tjeerd eating.
The magazine offers no explanation why it features him eating stamppot in front of the camera, but one can best assume the look and feel of the AERO interface has a direct relationship with potato and sausages.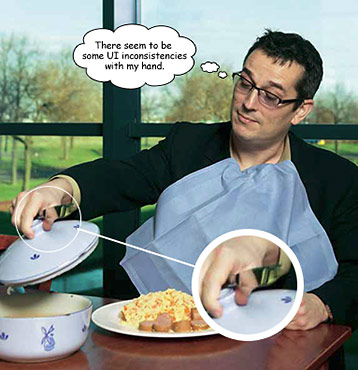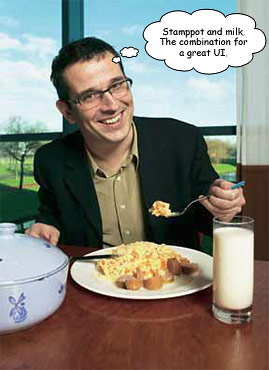 For some reason, the editors felt like his right thumb had to be Photoshopped in one photo, but the job was done so poorly it begs to know what's really there underneath.
Update: On closer inspection, his thumb problem might be related to his previous hand-related problems.
Update 2: On even closer inspection, it's a knife. You can go home now.