During November of 2006, Mary Jo "Watcher" Foley asked "Can Microsoft brand its way to coolness?" . The answer as of April 2007 is a confident "Yes!", that is until Microsoft releases the "Zune 2". God bless the Zune team.

Today Microsoft announced Silverlight, the official 'hip' name for the web-application technology otherwise known as Codename Windows Presentation Foundation Everywhere (WPF/E) for the past 12 months. The announcement was such a success, it completely obliterated Adobe's competing Flash-video announcement like Novell infrastructure in a blender. But it worries me that a lot of media publications and even technical bloggers think Silverlight is some sort of video-player including the notable Business Week.
Microsoft Aims to Outshine Adobe's Flash
In a bid to capitalize on the burgeoning online video market, the tech titan is launching Silverlight, its new video-player software…let users trigger videos by clicking in a browser window
Silverlight is not a video-player. Silverlight is not a YouTube competitor. Silverlight is technically not even new. WPF/E has had VC-1 video capabilities since last December, which is amazing in its own rights, but that's not Silverlight as a whole. Silverlight is an (exciting) platform which has video playback capabilities, which allows for YouTube competitors to be developed.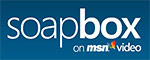 Speaking of which, anyone want to place bets on Microsoft's own Soapbox to use Silverlight soon? I have a feeling the recent closure of Soapbox to new users is not only limited to piracy concerns, but also preparations for a migration away from Flash to Silverlight.
This announcement certainly generated the interest Microsoft wanted. The original WPF/E announcement didn't catch on with most media-types, giving it less than a paragraph alongside the original WPF announcement in 2005. I must admit, I loved the WPF/E name. It's technically spot-on – Windows Presentation Foundation, everywhere. Albeit it broke every naming rule for products, but you could guess what it was without reading up Wikipedia on it. Silverlight on the other hand is cool, abstract and low on word-counts – something a bit more approachable by the general audience.

In a way, I miss the technical names such as "Expression Interactive Designer". No one ever asks "what is Expression Interactive Designer", but everyone asks "what is Expression Blend". I don't think this is a dying trend – it's a marketer's dream, but a lot more questions are going to be asked.
Since everyone else is talking about the media experiences with Silverlight, I should put in my own 2 pennies.
Finally, Mac users can stop whining about WMV9 and WMV-HD not playable on the Mac. It's not yet a desktop-application, but I'm sure someone can hack together an OS X video player with WPF/e Silverlight, enabling the WMV-codec.
Enabling a worthy competitor to apple.com/trailers. It's no surprise now if you want the best collection of movie trailers at the highest possible quality, you go to Apple.com. There's no denying Quicktime H.264 is drop-dead gorgeous. WMV-HD (also VC-1 based) in practice is equally if not better in quality, but it isn't cross-platform compatible so it didn't get the attention it deserves. Now with the VC-1 codec (the same codec used in HD-DVD/Blu-Ray) built-in Silverlight, someone out there (no pressure on Microsoft) could build an even higher-quality trailers archive and steal all of that traffic from Apple.
Hopefully Microsoft will announce something cool at MIX07 in 2 weeks' time.