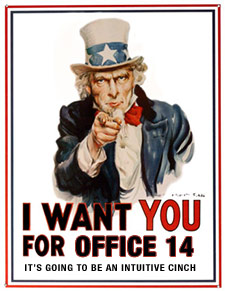 A job posted on Microsoft Careers a few days ago for a position of "Software Development Engineer in Test" in the Office team teases with a snippet of information about plans for the next major release of Office, codenamed "Office 14". The job description writes,
The new Office Workspaces team for Office 14 is a V1 effort chartered to excel at empowering our Information Worker customers to easily organize their documents around the projects they work on and to seamlessly collaborate with others on these documents. We will deeply integrate elegant UI into the major Office applications along with creating a new standalone interface and effective integration into the Windows shell. In addition to delivering simple document organization, we will also make document synchronization and collaborative merging an intuitive cinch.

(Followed by lists of acronyms and adjectives that make you feel somewhat incompetent)
I like the sound of seamless collaboration and elegant UI, but integration into the Windows shell smells like EU anti-trust actions. Having said that, I'm totally sold on the whole "intuitive cinch" thing. Where do I sign?