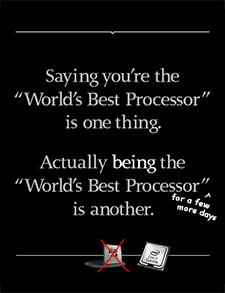 Not long after AMD claimed the title of the "world's best processors", four days to be exact, Intel is fighting back with all the Moore's Law and Israeli-scientists it's got, and today it launched the fastest quad-core consumer processor on the market, the Core 2 Extreme processor QX6800.
SANTA CLARA, Calif., Apr. 9, 2007 – Intel Corporation today advanced its enthusiast-level quad-core processor family with the introduction of the Intel® Core™ 2 Extreme processor QX6800, the company's twelfth quad-core processor offering. Running at 2.93 GHz — the fastest native clock speed yet reached with the Intel® Core™ microarchitecture for the quad-core desktop — this addition to Intel's innovative processor family sets new standards for desktop PC performance. The Intel Core 2 Extreme processor QX6800 is ideal for those gamers, digital design professionals and enthusiasts who crave the highest performing computers they can get their hands on.

The Intel Core 2 Extreme processor QX6800 is produced on Intel's industry-leading 65 nanometer process, key to enabling the large 8 megabyte cache. A 1066 MHz system bus is supported and the processor is available now at a cost of $1,199.
Of course, I don't have one of these precious babies for testing to tell you exactly how awesome they are *cough*, so I'll just have to base my analysis on this carefully crafted PR release. It's this <--------------------> awesome!
One of the key benefits Intel describes as a result of increased performance is "better gameplay with more intelligent computer-generated opponents". But I've always played computer games because I can actually win, and laugh at the stupidity of artificial intelligence. Does that mean I should stick to my slower AMD Athlon for dumber AI? The Intel spokesperson did not wish to comment.
A local bank has also informed me they will be be launching their new "Core 2 Extreme" loan alongside their "Playstation 3" loan to accommodate the modern day geek. An anonymous bank staff tells me they're appalled at the price of the Wii and AMD processors for undercutting profitability.