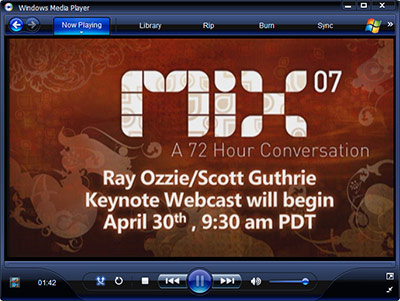 While most of the world is in Las Vegas getting some sleep before the big day ahead of them tomorrow – watching the MIX07 Ray Ozzie keynote live in the Venetian Hotel, some of us unfortunate souls (including Betsy Weber) who cannot make it to Vegas are forced to find alternatives. But all hope is not lost.
Like Microsoft do with most event keynotes, they will be streaming the MIX07 keynote live in a webcast. You can find the Windows Media streams hosted at:
The keynote starts at 9:30am PDT. Even though this is streaming technology, you might still want to get in early to reserve your 'spot'. If it fills up like it does with the PDC keynote webcasts, then you don't want to be late. You'll also be treated to a 'best-of' from Microsoft's classical music collection – never to be missed.