Iconfactory, the small design company who holds a near-monopoly over the design of some of the most delicious icons in many commercial Windows and Mac software titles has come out claiming some credit on the design of Windows Vista's icons.
Building on the groundbreaking work we had done for Microsoft's Windows XP icon suite, the Iconfactory once again worked hand in hand with the design team in Redmond to help design the look and feel of the Windows Vista icon suite. Over the course of two years, style proposals were created and refined in cooperation with Microsoft's creative team, to match and express Windows Vista's Aero vision and styling. Once the final concepts for the icon style were completed, Microsoft's designers expanded on this visual language and used it to internally create the full suite of icons you see today in Windows Vista.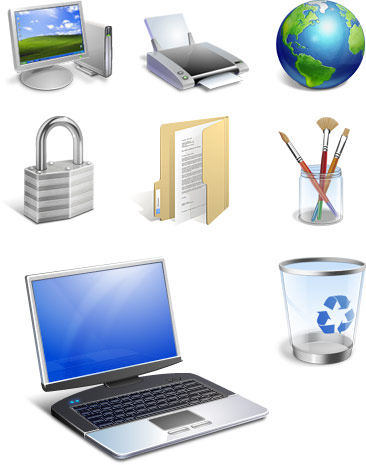 Assuming the icons above are samples from the final concept, its interesting to see how they differ from the final Windows Vista icons. For example, the concept icons all face rightwards and are lit from the top right corner (like XP), whereas in the final they all face leftwards and are lit from the top-left. Much of the detail on these particular icons have been carried over to the final design, right down to the assortment of paintbrushes in the Paint icon. These guys clearly nailed the concepts.
But they are not the only people who deserve recognition for this massive overhaul of icons in Windows. Taking into account Vista refreshed about 10 times as many icons as XP did, as well as the introduction of high-resolution icons, many design agencies and designers at Microsoft all deserve a round of applause. While they did miss out on some detail here and there, it certainly marks a new milestone for Windows.