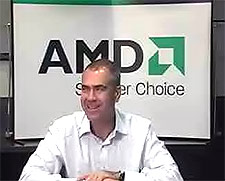 Last Friday, a not very well known company called AMD generously hosted a bloggers-only webcast event with Henri Richard, executive vice president of AMD, Chief Sales & Marketing Officer and self-proclaimed gaming enthusiast, to discuss his feelings about the first 100 days inside a world with Windows Vista. Everything aside, props to AMD for building a very strong relationship with bloggers through these exclusive non-press events that can only be compared to the bonding experience you find in public saunas.
First Henri announced that AMD will be rolling out a gold master image of Windows Vista for deployment throughout the company as a sign of their confidence over the stability and performance of Windows Vista with a combination of their hardware and software support. Intel on the other hand plays chicken until the over-exaggerated Service Pack 1 – which for some ranks on par with the second coming. But much of this one hour session evolved into a nice Q&A session with Henri spanning across a variety of topics from a bunch of familiar names including Mary Jo Foley, Robert McLaws (who also set a new questions record?) and Scott Fulton from BetaNews who asked some great questions.
Unfortunately because I was 17 hours in the future, I wasn't able to participate live. However, with the help of AMD's Scott Carroll, the questions I had were also asked during the conference (if not better than if I said it myself). The questions concerned the state of Windows Vista drivers, the price and more specifically price drops of AMD processors and the Fusion.
Here are clips from the webcast where Henri answers these questions. Instead of regurgitating what Henri said in writing, I thought it would be cool to post clips from the recording to let Henri explain it in his own words and to show you what an event like this looks like (I didn't know either). I don't want to steal anyone else's thunder so these are only segments from my questions and the introduction.
Introduction and Vista gold image announcement
Question 1: Performance of Windows Vista graphics drivers compared to XP.

Question 2: Fluctuating prices of AMD processors, in some cases prices were halved in 45 days after launch.

Question 3: Is AMD's focus on hybrid solutions such as the Fusion?

Special thanks to Henri, Scott and Eric for organizing this event. Looking forward to future events like this.