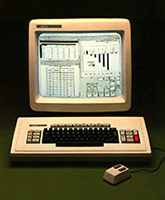 In 1981, the GUI as we know it today was born out of the Xerox Star – an unfortunate investment by Xerox that only ended in legal turmoil, yet 26 odd so years later we've progressed only as far as the capability to have windows overlap each other instead of tiled. During these years, we've mastered the ability to open, close and move them with all known combination of genie and transparency wizardry, but every application still resides in a window and objects are still represented by icons. Today, we can't even live with a cellphone that's months out-of-date, so why are we stuck with something invented 26 years ago?
To put 26 years into context, below is an example of 26 years worth of difference in the field of graphical user interfaces compared with advancements in video game technologies. How little things have changed and how far things could have changed.

Left:
Castle Wolftenstein
, released in 1981, is a steal-based action game for the Apple II.
Right:
Crysis
, to be released in 2007, is a first-person-shooter PC game by EA Games.

Left:
The graphical user interface of
Xerox Star Workstation
(image credit Neovis)
, released in 1981, an operating system by Xerox.
Right:
The graphical user interface of
Windows Vista
, released in 2007, an operating system by Microsoft.
The reality is, "a window is really an artifact from around 1979, when we had character mode, not graphics. Every application assumed that the screen was 40×24 characters." Then the graphical user interface stepped in, and introduced "virtual screens to run multiple applications at once." In the beginning, "they were just tiled. Eventually that became Windows".
Creative Director for Microsoft's Advanced Technology Center in Beijing, David Vronay hopes to "get rid of overlapping windows all together". Dave is a researcher at heart, but he has an abundance of experience working on retail products such as Windows Vista. He is leading a new design team in China to come up with new solutions to some of these decades-old problems.
Like me, you must be wondering what's wrong with overlapping windows. It works doesn't it? Dave notes it is not so much of a problem in itself than it is what it was originally designed to solve which no longer applies. "Overlapping windows are really a work-around for small screens. If you had enough space, you wouldn't have a window. You would have the actual object that is in the window." The concept doesn't make sense at first, but when you think about the context of documents, it makes sense to have a letter appear as a piece of paper itself than enclosed in a virtual box.
Then you start thinking, how would I open, close, edit, sort and delete these 'real' objects? If you get rid of controls, there's no buttons and no dialog boxes. The answer to that isn't entirely clear, but a lot of concepts will have to change as Dave points out.
"Why do you need to open a document?" Dave asks. "You need to open a document because it isn't already open." This is where Dave's years of research really shine. This of course is not a problem by nature, in the real world, everything is 'open' in the sense that it exists and does not have a 'closed' and 'open' state. But it is a problem with computers.
"There is the document on disk that is a different beast than the document in memory (if it exists at all), and the application can only work with it in memory (in most cases). The idea that a document is a stream of binary data that is saved in something known as a 'file' is also historical and outdated." To find an alternative solution, we have to "get rid of this idea that a file is a good way to store data". Dave also points out Microsoft is already acting to change this, "that is what WinFS was/is all about".
"The window UI was just one of several solutions at the time. No one thought it was the best. It was just the best one possible with the hardware constraints of the day, constraints that don't exist anymore." What is it going to take to change this 26 year old legacy? "If we were starting over now, with today's powerful hardware, windows are not needed. Outside of the computer, you survive just fine with stacks of paper, drawers, file cabinets, book cases, bags, etc."
No one knows the answer, but Dave points out some of the constraints we still face today. "You have a certain percentage of your field of view that is consumed by the monitor, what is the proper percentage to allocate to different items? I have something that I am actively reading – that needs to be fairly large, then I need the context around it, and I need navigation points to other items. Finally, at least in the current UI, we need control elements – targets for the mouse, stylus, finger and etc. So – if you take those requirements, you can imagine many different solutions besides overlapping, resizable windows."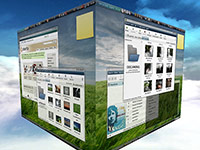 Ideas are already beginning to spark. Many of today's UI concepts experiment with the ideas of tiling, zooming, etc. Dave points out even "those crazy rotating cube desktop demos" are stems to a better alternative. I asked whether or not Flip3D was considered part of that experiment, Dave replied "Sure! In fact, on my Tablet PC, I run with all windows maximized the whole time, and flip between them with Flip3D. But windows themselves are still part of the problem."
At the heart of the thin-client phenomenon, "another alternative is the page-based UI". Dave points out lots of people do nothing on their computer but use Internet Explorer in full-screen mode. "In fact, they don't even know the computer can do anything else, and don't care, because web functionality is sufficient to justify the acquisition cost." A browser window, in full-screen? Sounds like Google's utopia. "The web of course has no (useful) windows, it is all just pages. You click links, you go back, or you go to favorite sites, or you search, of course – a real UI breakthrough." This is one just one practical example of "a good number of users operating a windowless computer".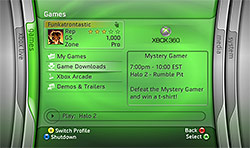 Even with all this fantasy talk, alternative user interfaces are not all that far-fetched. Some great products a lot of people use everyday already come without a windows-oriented UI such as the Media Center, iPod/Zune and most cellphones. But it doesn't have to be all windowless for example, the XBOX 360 has a very basic simplified window manager named the 'Blade'. In effect, each window is represented by a tab which you shift to. Even the iPhone has no windows.
Speaking of Apple, Dave is suspicious that Apple could beat Microsoft to the market with an operating system without windows. "Apple, with its smaller user base and less concern for backwards compatibility and training costs, is in a better position to deploy large UI changes than Microsoft." If that does happen, it will certainly be a shame since it will fuel another round of mindless Microsoft ridicule at future Apple conferences.
Even if we do come up with a better solution tomorrow, a graphics user interface so advanced it boosted productivity by ten folds with minimal learning curve, we still face one other problem. A problem that existed since the creation of Windows. A problem that Microsoft hopes to never deal with. Can you really take the 'windows' out of Windows? Wouldn't that kill the brand?
To which Dave replied, "I am sure that the Microsoft branding people can come up with something to take the place of Windows. Like Microsoft Zoomy or the Microsoft Tiled Productivity Surface".
If you're feeling creative and want to be part of the solution, Dave says he's hiring. A passion for Chinese foods is a plus.