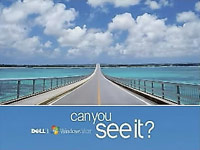 I can see why Vista isn't selling well with crap like this.
Last month, there was a bit of a backlash against Windows Vista when Dell reintroduced XP back to its product offerings across a range of home and business systems. Even though I strongly advise against gamers upgrading to Vista on their current system, but I don't quite understand why anyone would want to pay good money for second-rate technology on a brand new system. They're only going to have to pay even more money in half-a-year's time when all drivers are well and good. But today, I came across something on Dell.com that might have explained this.
I was actually looking around for the new Ubuntu offerings when I stumbled across this promotional video titled "Vista vs. XP". I was expecting to see flying-buzzwords and all sorts of hype-generating effects that would have wow-ed the customer into getting Vista as soon as possible, but it turns out to be a piss-poor attempt at explaining what an operating system is with a corny script and unspectacular demos. Have a look at the video to see what I mean.
A list of things that bugged me:
"Can you see it?" – Who at Dell came up with this crap? Microsoft obviously didn't. And what's with the face expression that looks like he wants to murder someone when he says it?
"Many of you won't be able to run Vista on your current system specs" – What a great way to get people excited by telling them how incompetent their computer systems are.
Tina Riquelmy, the "Vista Expert" – You would assume a "Vista Expert" might be someone from Microsoft or an Microsoft evangelist who really knows the guts of Vista, but it turns out Tina is actually a Senior Product Manager at Dell. What's with her voice? It gets quieter and quieter. At least find someone who's a little more energetic.
"Phenomenally different than any operating system you've ever used". So let's rename an album in real-time. (1:30) – Dell decided to showcase the phenomenally different digital music experience that is in Vista by showing a 15-second clip of "how-to" rename your music albums.
A security scan that freezes on the first file (2:35) – A bit of a trivial thing, but at least record a demo when software works as it should. Windows Defender stuck at scanning the first file for is not a good demo.
To say that was disappointing is an over-statement. I can't imagine any average consumer to want to buy Vista after seeing that. With all $500million dollars poured into marketing Vista, some of Microsoft's biggest partners still fail to create a campaign even on the borderline of Apple's Get-a-Mac ads.