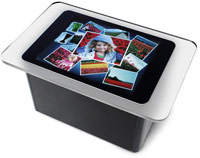 So the wraps have been taken off Microsoft Surface, a tabletop computer that's the result of countless years of research papers and project codenames (TouchLight, PlayAnywhere, PlayTogether, PlayTable, Milan) all stuffed inside a 30-inch silver box. Whilst not exactly as portable as the iPhone (carry case sold separately), the Surface features an almost identical multi-touch technology as many other Minority Report inspired research projects – once you've seen one, you've seen it all. I don't have much else to say about it, so just check out the official website, press release and two-or-so blogs who picked up the story.
However I did uncover a cool background image featured in the Flash website which makes a great wallpaper. Spent roughly 30 minutes cleaning up the horrendous JPEG compression that someone thought might have saved some bandwidth (pfft, bandwidth), stuck a logo on it and called it a day. Wow, special thanks to Mickey Slater (who designed the site) for providing an uncompressed version. Looks pretty sick.
But whilst digging around the Flash file, I also found a piece of image leftover from the project's development process that either holds some relevance or I'm just over-reacting to mindless filler-text. Nevertheless, I thought I should share it.
What's interesting here are the differences between this mock-up and the actual press page that's currently on the live website. First of all, the media image placeholders have been replaced with better images – trivial and not significant. But on the second line, all of the executives have been replaced from the directors in the Entertainment division to leaders of the Surface team itself – J. Allard included. Wonder why.
But the most interesting are the sample "press releases". November 14 seems to be a date of significance, but if you read the third release, "Microsoft's New Milan Media Player on Store Shelves on Nov 14", it becomes fascinating. Milan being the codename for "Surface", it would be not far-fetched to assume a "Milan Media Player" is a portable media device which has multi-touch capabilities, which brings me to the Zune. The Zune, which is now due for a second revision pops to my mind. And out of pure coincidence, November 14 is also the date of the Zune launch in 2006. Announcing a multi-touch 2nd generation Zune on the first anniversary sounds like a good pretty good plan to me.
Update: How could I forget to credit Mary Jo for accurately reporting on this almost five days ago! She lives up to her reputation.