Well that was the quickest corporate court-case turnaround I have ever witnessed. It seemed like only yesterday when the ACCC (Australia Competition and Consumer Commission), or otherwise informally known as Whiny Customers Complaining Channel, announced they would take Google to court over misleading and deceptive conduct for its "Sponsored Links" program.
The dispute in question is actually valid, where a sponsored link duplicated the name of a legally registered business which linked to one of its major competitors. Now the Federal Court has ruled in favor of the ACCC for breach of the Trade Practices Act (Section 52) in Australia. Now this is where my pain and suffering to study Business Law pays off.
The ACCC wants to take things even further whilst they're on a roll. They want Google to shame themselves by displaying their breach on the website's homepage, which I thought would be amusing. I've put together a little mockup of what that might look like.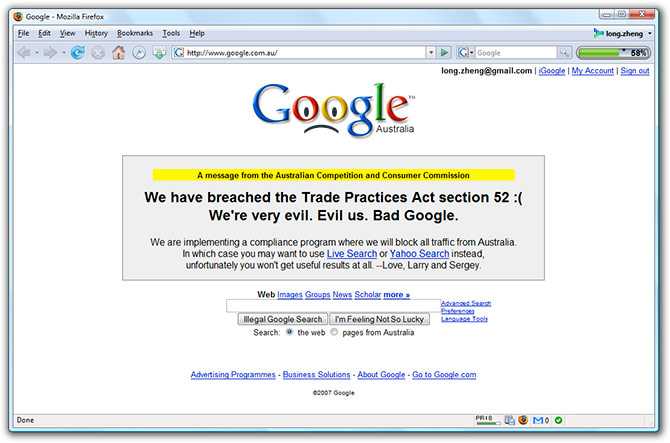 Or maybe the LOLCat version…