"A method for managing windows in a display" would sound particularly familiar to every Windows user as "that strip at the bottom of the screen with the Start button and clock" or perhaps the more formal name, the taskbar. On July 12 the Patent Office processed a patent application from Microsoft filed on the 9th of February, 2006 of what appears to be a possible alternative for the decade-old taskbar we all know and cherish in Windows.

The taskbars styles of the last two Windows release. (Composited) images credit:
Wikipedia
user BWCNY
Time and time again, Windows enthusiasts have jumped on the idea of replacing the taskbar in the 'next' version of Windows as one of the most revolutionary user interface changes Microsoft can make. For Windows Vista (Longhorn), the center of attention was the sidebar before undergoing major feature-reduction surgery in 2005 – a lot of people fantasized about how the sidebar could become the taskbar replacement, however that soon worn-off.

This time around a bunch of Microsoft Researchers have come up with a way to manage multi-tasking windows by the use of what they call a "clipping list". The inventors, Tara Matthews, George Robertson, Mary Czerwinski and Desney Tan are all except Tara, part of the infamous MSR VIBE (Visualization and Interaction for Business and Entertainment) project aimed at enhancing information presentation and work efficiency. Ironically, they can't seem to do the same for the website – it's renders horribly in Firefox.
Their proposed solution, one of many I'd imagine, detailed in over 30 or so odd pages can be summarized as thumbnails with an icon – "A clipping comprises an image of a region of a window and an icon." To picture what that might look like, imagine each of your minimized application buttons represented by a 'tile' and an overlaid icon with text. These tiles would then be stacked vertically on the side of the screen looking somewhat a sidebar. The following diagrams were provided.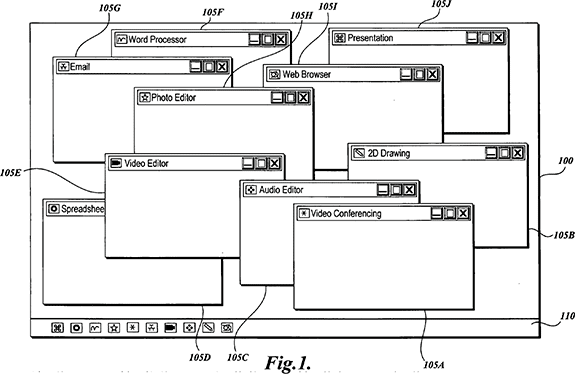 Fig 1:
A representation of the current taskbar model whereby windows are represented by icons docked at the bottom of the screen. Each window has its own icon.
A task bar containing icons is a way to manage windows for a plurality of tasks by representing the windows with images smaller than the windows. A more effective way to manage windows is to use "clippings." A clipping comprises an image and an icon. The image in a clipping is a region of a window with which the clipping is associated. The icon represents the application with which the window is associated. Clippings "distill" the information contained in a window to make it easier for users to quickly understand the status of the window and the task for which the window was created.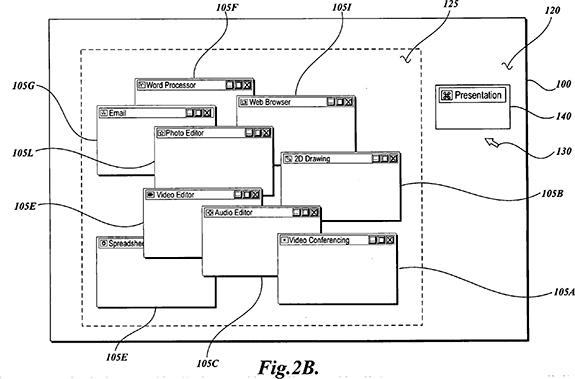 Fig 2B:
The "Presentations" window becomes clipped and thus displayed outside the focal region and inside the peripheral region. Windows can be clipped by either dragging or pressing the "minimize" button. This clipping has an icon and title.


Fig 4: Clippings however are not just thumbnails. Whilst the default clipping is a thumbnail of the top-left corner of the actual window, certain application can also render dynamic and optimized content for the clipping. In this case, a presentation application can render an outline or display the progress of changing content.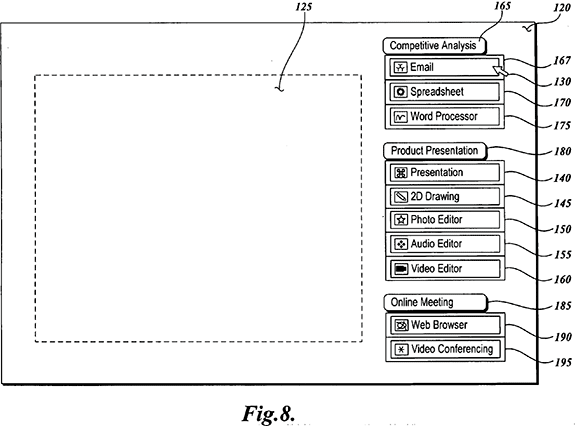 Fig 8: To organize clippings, you would also be able to categorize certain applications and their associate clippings under user-defined categories such as "Presentation" or "Conference". This is along with the ability to reorganize taskbar buttons are probably two of the most demanded requests for taskbar improvements, which they've obviously addressed.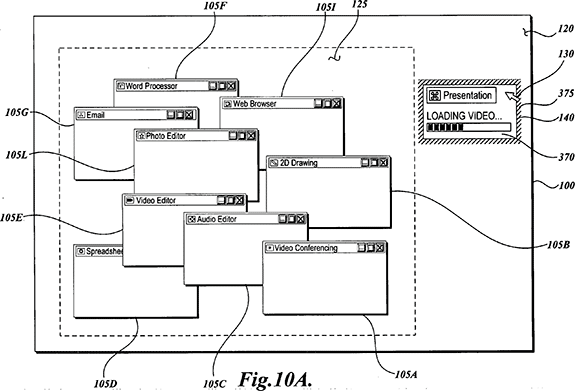 Fig 10A: Last but not least, like today, clippings will flash like mad to grab out attention when something's happened or your friends on instant messenger have a life or death situation they need to share with you with the use of dancing emoticons.

Obviously this is very preliminary information on how this solution works but I like what I'm seeing. For the same reasons why in Windows Vista, the window thumbnails are popular and well received, people prefer visual representation than text – most of the time its easier to identify. However at the same time I can also raise several usability issues which they do not address. I know some (crazy) people who can have up to 30 windows open at one time, how will the 'clipping list' expand? I hope they have a solution to that somewhere in the MSR vault because this is certainly worth following up on.
Even though this is still very much research and experimentation, there is at least one thing I like about Sinofsky and that is he can take and persist bold risks like the new user interface in Office 2007. I bet his proposed changes sent shivers down the spines of countless executives and stakeholders, but he still took a bet with it. Whether or not he'll take a bet with Windows we will know in a few year's time.