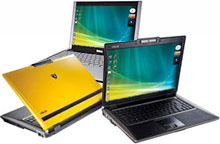 What would you expect to see in a press release from Microsoft? You'd think in a document distributed to thousands of journalists they would want to promote their own products and technologies such as Internet Explorer and Silverlight right? Benefits of integration comes to mind – how they work better together and all that jazz. On the other hand, how about Firefox, Flash and everything non-Microsoft on your brand new spankin' Vista computer instead?
In an amusing press release published today, "holiday gift giving in July" as they call it, "for the love of God, please buy some damn Vista PCs" as I interpret it, Microsoft featured a select few premium laptop offerings from some of the usual suspects like Dell, ASUS, HP, Sony and Toshiba – all great laptops by the way – in an obvious effort to boost Vista PC sales. It looked all quite normal until you took a closer look at the laptops, more specifically what's on the screen.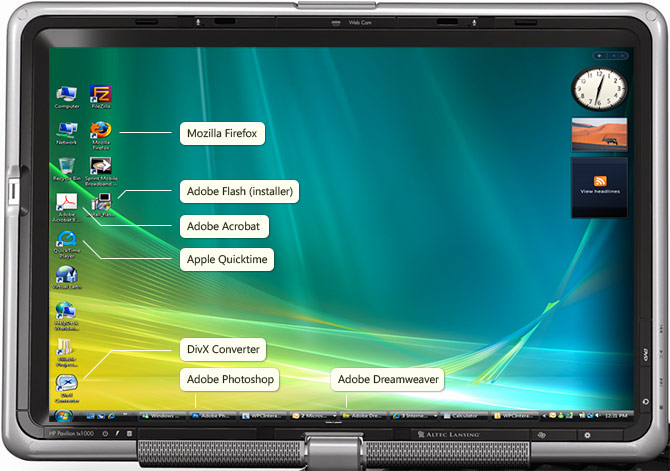 Internet Explorer competitor, Firefox. Tick. XPS competitor, Acrobat. Tick. Windows Media Player competitor, Quicktime. Tick. Windows Media competitor, DivX. Tick. Silverlight competitor, Flash. Tick. Expression Design competitor, Photoshop. Tick. Expression Web competitor, Dreamweaver. Tick. Fortunately, Live Messenger, Outlook and Calculator still got some lovin'.
I know I'm picky. I also know this particular PR person probably took a screenshot of their own desktop for convenience and quickly pasted it in Photoshop. But I think this is the case why Microsoft will never beat Apple at the marketing game, they're always an arm's length away from perfection. I mean how much harder would it have been to grab a Vista screenshot from the official Microsoft PressPass archive, and took the time to crop it accurately in Photoshop – not sticking outside the laptop's display bevel? Not very.