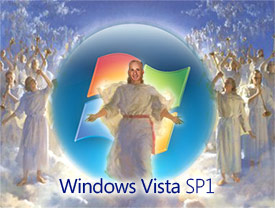 Microsoft might choose not to tell its enthusiasts anything about Windows Vista Service Pack 1, but they can't afford to keep it a secret to the development community. For the same reasons some argue SP1 is the Holy Grail for Windows Vista, a newer kernel means changes to a very significant component of an operating system. However this is a significantly minor update to the kernel compared to what was endured just months ago, APIs have already been added, changed and even obsoleted.
Since Microsoft wouldn't publish any documentation of their own for the time being, here is a list I've compiled from the MSDN Library of all the changes taking effect in Vista SP1 published to-date. Whilst most of these documentation won't make sense for non-developers (myself included), think of it like reading a foreign-language newspaper – find all the proper nouns then make up the story.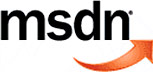 Windows Installer 4.1 (4.0.6001) – "Windows Installer 4.1 updates Windows Installer 4.0 without adding any new features"
Application Compatibility Cookbook – "There are no architectural changes for Windows Vista SP1. Applications that are compatible with Windows Vista RTM should continue to be compatible with Windows Vista SP1."
IPv6 Traffic over VPN Connections – "Secure Socket Tunneling Protocol (SSTP). SSTP is only supported by Windows Vista with Service Pack 1 (SP1, now in beta testing)" ["Now in beta testing". Doh, another Microsoft typo. I'll correct it for them, they meant Windows Server 2008.]
Process Afinity – controls which processor a process runs on in a multi-processor environment
Cryptographic Next Generation (CNG)

CNG Algorithm Identifiers – Vista SP1 support 2 new Algorithm Identifiers

BCRYPT_AES_GMAC_ALGORITHM "AES-GMAC" – "The advanced encryption standard (AES) Galois message authentication code (GMAC) symmetric encryption algorithm."
BCRYPT_RNG_DUAL_EC_ALGORITHM "DUALECRNG" – "The dual elliptical curve random-number generator algorithm."

Cryptography Primitive Property Identifiers – Vista SP1 support 2 new Property Identifiers

BCRYPT_CHAIN_MODE_CCM – "Sets the provider's chaining mode to counter with CBC-MAC mode (CCM)."
BCRYPT_CHAIN_MODE_GCM – "Sets the provider's chaining mode to Galois/counter mode (GCM)."

WdsTransportClient – Windows Deployment Services Transport Client
Network Access Protection

This is a long list, so here's some extra enthusiasm to cheer you on. "Developers, developers, developers"

INapComponentConfig2 – "provides NAP system configuration methods for system health validators (SHVs) to configure a network policy server (NPS) user interface remotely."

Network Connected Devices – Function Discovery

IFunctionDiscoveryNotification::OnEvent – Vista SP1 adds support for 1 new event

FD_EVENTID_IPADDRESSCHANGE – "The IP address of the NIC changed. Events may be sent when a power event occurs (for example, when machine wakes from sleep) or when roaming with a laptop."

Native Wifi

Profile XML Schema

MSM (WLANProfile) Element – Vista SP1 adds support for 1 new 802.11 wireless LAN standard

phyType – "The value "n" is only supported on Windows Vista SP1 and later versions of the operating system"

Terminal Services
KeNumberProcessors – "…is obsolete in Windows Vista SP1, Windows Server 2008, and later operating systems." [In order to support Dynamic Hardware Partitioning (DHP)– hot-adding CPUs at runtime – number of processors may not be constant.]
GetTimeZoneInformationForYear – "Retrieves the time zone settings for the specified year and time zone. These settings control the translations between Coordinated Universal Time (UTC) and local time."
DirectX Japan – Vista SP1 adds support for new Korean game rating system (Game Rating Board) and support for renewed Japanese rating system.
WHQL and logo program
I expect this list to grow dramatically when SP1 actually kicks in to beta. Of course like any other set of APIs, none of these matter if no one uses them. I don't know about you, but I just can't wait to generate some dual elliptical curve random-numbers.
And who can blame the French for writing down dates. Mind you, "Dates et lieux susceptibles de changements". Merci!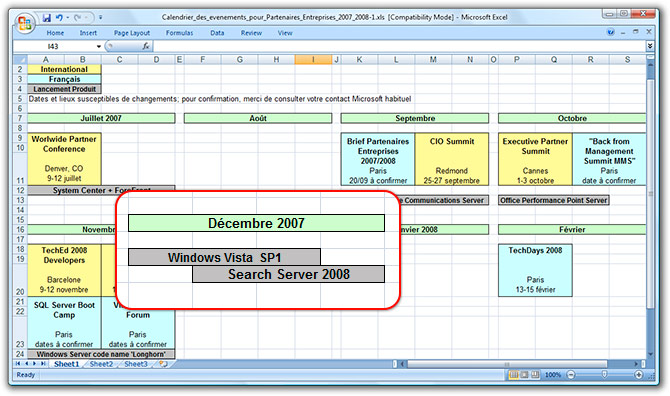 In case you were wondering, yes, I am a lonely person. 🙁
Update (23 July): New Smart Card Minidriver Specification describes new "Secure PIN Channel" functionality in SP1. "Secure PIN channel is a new feature in Windows Vista SP1 that enables a secure PIN prompt followed by establishment of a secure channel between Windows and the smart card for PIN authentication."