Oh boy, a Microsoft roadmap, haven't seen one of these in a while. This is extracted from Steve Ballmer's Powerpoint presentation at Microsoft Show and Tell (Financial Analyst Meeting) 2007 yesterday. I'm surprised Mary Jo Foley or Todd Bishop haven't picked this up earlier. I've noted some of my items of interest with a red asterisk.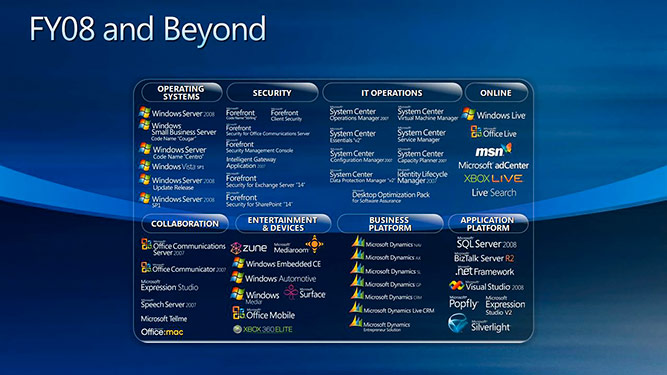 Operating Systems

Windows Server 2008
Windows Small Business Server Code name "Cougar"
Windows Server Code Name "Centro"
Windows Vista SP1

*

Windows Server 2008 Update Release

*

Windows Server 2008 SP1

*

Security

Forefront Code Name "Stirling"
Forefront Client Security
Forefront Security for Office Communications Server
Forefront Security Management Console
Intelligent Gateway Application 2007
Forefront Security for Exchange Server "14"
Forefront Security for SharePoint "14"

IT Operations

System Center Operations Manager 2007
System Center Virtual Machine Manager
System Center Essentials "v2"
System Center Service Manager
System Center Configuration Manager 2007
System Center Capacity Planner 2007
System Center Data Protection Manager "v2"
Identity Lifecycle Manager 2007
Desktop Optimization Pack for Software Assurance

Online

Windows Live
Office Live
MSN
adCenter
XBOX Live
Live Search

Collaboration

Office Communications Server 2007
Office Communicator 2007
Expression Studio
Speech Server 2007
Microsoft Tellme

*

Office:mac

Entertainment & Devices

Zune

*

Mediaroom
Windows Embedded CE
Wndows Automotive
Windows Media
Surface
Office Mobile
XBOX 360 Elite

*

Business Platform

Dynamics NAV
Dynamics AX
Dynamics SL
Dynamics GP
Dynamics CRM
Dynamics Live CRM
Dynamics Entrepreneur Solution

Application Platform

SQL Server 2008
BizTalk Server R2
.NET Framework
Visual Studio 2008
Popfly
Expression Studio V2

*

Silverlight
This above information contains forward-looking statements that are subject to risks and uncertainties. If you make investments based on this information alone, you are an ass. Please remove yourself from the stock market immediately.