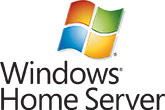 If there's one computing server product every enthusiast and home-user should be excited about, that would not be Windows Server 2003 Datacenter Edition for Itanium-Based Systems, instead it should be Windows Home Server – codename "Q". Last month, WHS was released to manufacturing aiming for distribution "in the next couple of months" and retail availability "this fall". The official availability date is now most likely Monday, August 27th 2007.

On the Microsoft Support Lifecycle website, a listing for Windows Home Server states the general availability date as 8/27/2007, and mainstream support retirement date as 10/9/2012. This however does not suggest OEM products such as those from HP will ship then – still expected to come "fall" (September).
In this case, general availability most likely refers to the DVD package for system builders and other OEM channels. If you're one of those people who want to build your own Home Server, then you should consider bugging your local computer shop for a copy from August 27. Alternatively start your own OEM business.
For those who are looking for a more 'buy-one-and-it-works' package, hold on to your horses and DVDRip movies for just a little bit longer as complete systems are still on-track for a September release.
Update: Another knowledgeable individual has also confirmed August 27 as the availability date for Windows Home Server.
Update 2: Microsoft insists this is only the support availability date. However, why would you support a product that is not available at the time? Evidence also suggests OEMs in Australia and New Zealand have already begun shipping Windows Home Server discs.