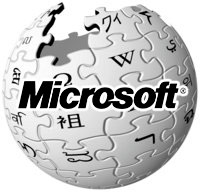 By now most people have probably heard of WikiScanner, the web-tool used to map anonymous Wikipedia edits against a list 2.6 million known IP ranges owned by some of the most reputable organizations and companies in the world. Naturally, people start by scrutinizing the obvious targets such as the CIA, but what about our friends over at Redmond? Has any one of the 49,000 employees on-campus at Microsoft HQ been having a bit of fun with Apple's Wiki?
And the answer is an anticlamatic no. Microsoft employee, or at least those who made anonymous Wikipedia edits during those long breaks between Windows releases, are a rather boring mixed bunch.
From within the IP range 207.46.0.0 to 207.46.255.255 which belongs to Microsoft Corp, Microsofties have been recorded doing a bit of everything – some knew what they were doing, others didn't.

Although one particular edit stood out for me, an edit to Apple's wiki. Before your imagination runs wild, it's not what you think. In fact, it's quite the opposite as this Microsoft employee was the first to remove some obvious vandalism, which had "Apple Inc sucks" added 2 minutes earlier by another anonymous user in Australia. Even after all the humiliation from Apple, I thought this was a meaningful act of decency.
Whilst I'm at it, Microsoft's public-relations duo – Waggener Edstrom and Edelman appears to be doing nothing out of the ordinary as well . Just the obligatory self Wikipedia entry edits as well as correcting product rumors.
On the other hand, what is this Apple employee doing to Robert Scoble's page? Got a little too zealous of the iPhone? 😉